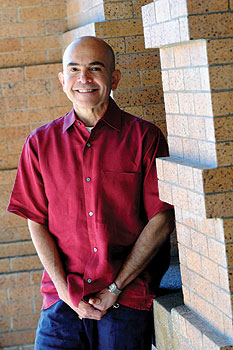 Dr. Mauricio Cifuentes initially trained in Colombia as a lawyer where he practiced labor law and taught law for almost twenty years. As a result of what he calls a "mid-life crisis," and after some years of discernment, he shifted his focus to pursue clinical social work. He moved to the U. S. and in 2003 graduated from the MSW program at Loyola University Chicago. After designing and overseeing a mental health program for Latino immigrants in Chicago for a few years, he went back to school at Loyola University Chicago and received his Ph.D. in Social Work in 2010. His dissertation focused on social stigma as a barrier to remaining in therapy for Latino clients from the perspective of Latino clinicians.
For Dr. Cifuentes, being a social worker is a concrete way to express his spiritual values and religious beliefs. He considers of paramount importance the recognition of the strengths present in every single human being, couple, family, and community, no matter how difficult and challenging their circumstances may be; and to be responsive to the call to fight against all forms of oppression and discrimination, in order to make real the ideal of an egalitarian society. As a practitioner, he describes himself as psychodynamic-oriented with a strong influence from strengths theory. Group work is his favorite modality of therapeutic intervention.
Dr. Cifuentes sees his role as a social work professor framed by the sharing of his passion for the profession. In his philosophical teaching approach he has been influenced by Latin American authors, mainly Paulo Freire, and his notion of praxis. Dr. Cifuentes describes praxis as a never-ending process in which one is constantly interacting with both the internal and external environment. Essentially, one sees one same reality, but new elements are constantly incorporated into that reality via the learning process. Therefore, when one contemplates that same reality again, the perception of it is now different; it has become a new reality.
Currently, Dr. Cifuentes is teaching the integrative field practicum seminar to undergraduate students in their junior year aimed at providing a space in which they integrate theory and practice. On the graduate side, he is involved in the formation process of clinicians who are pursuing social work in the Multicultural Clinical Practice concentration.
Dr. Cifuentes believes that good social workers are equipped with a great amount of authentic curiosity about human beings and approach them and their complex realities with an open, critical mind and a compassionate heart.
Education
J. D. Pontificia Universidad Javeriana, Bogota, Colombia
Specialist in Labor Law Pontificia Universidad Javeriana, Bogota, Colombia
M. S. W. Loyola University
Ph.D. Loyola University
Current Research Interests
Latino, LGBT, and older adult populations