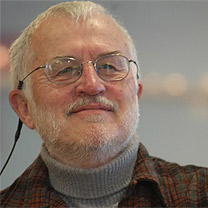 Don "Gus" Gustafson just celebrated his 40th year on the Augsburg history faculty. Or as he likes to put it, he has "been on this campus longer than a good share of the buildings." His academic validation in the form of a Ph.D. is from The University of Wisconsin (research in India; second field in Africa). He also has an M.A. in the history of the British Empire and a second M.A. in South Asian area studies from the same institution.
At one time or another, Gus has taught most of the courses listed in the catalog, but he now focuses primarily on The Modern World and The Modern Non-West. In alternate years he teaches an upper division course on India, on China, or on general world history. In class, he occasionally tangents off into somewhat bizarre travel accounts from Asia or Africa, and during the spring keeps people apprised of the maple tapping occurring in the woods adjoining his farm home in nearby St. Peter.
Gus really thrives most on the sheer delight of teaching—students from his classes usually remember Rasputin, Alsace-Lorraine, and Che Guevara.
Education
B.A. Gustavus Adolphus College
M.A. University of Wisconsin
Ph.D. University of Wisconsin