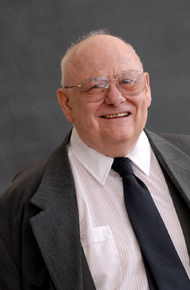 "Of all the things we acquire in a lifetime knowledge is one thing we cannot lose. Although knowledge may not enrich us monetarily, it enriches the spirit to enable one to appreciate the wonders of life and nature. My approach to teaching is to recognize that students have a variety of learning skills and to work to enhance those skills and avoid restricting those skills. I attempt to facilitate their learning so they can experience the joy of learning and of newly acquired knowledge."
Arlin Gyberg came to Augsburg in 1967 and throughout the years has been involved in a variety of areas, and has been very active in the Minnesota Section of the American Chemical Society including being Chair. He has received several teaching awards including an Outstanding Educator in America Award in 1973 and was selected twice by the graduating class at Augsburg as the Honored Faculty in the science and mathematics division.
Throughout the years Arlin has consulted with or did research for, and or taught specialty courses at 3M, NSP Nuclear Power Plants (served on a corporate committee on training also), St. Mary's University School of Anesthesia, Northwestern College of Chiropractic, Minneapolis Community College, Minnesota State Prison System, the University of Minnesota, Breck School and Macalester College. Currently he is a collaborator/consultant with the SarTec Corporation of Anoka, Minnesota.
"The learning environment in chemistry at Augsburg promotes cooperative learning rather than competitive learning. Students are encouraged to study and work together and faculty are readily available and willing to help students at all times. This friendly, positive learning environment is not common and has worked well as demonstrated by how successful Augsburg's chemistry graduates have been."
Arlin's current research interests are with catalytic systems to produce biofuels, all the active ingredients in energy drinks (primarily caffeine, thoebromine, and theophyline), over the counter children medicines (primarily acetominophen levels), algae as a source of biodiesel and bioethanol, and catalytic decomposition of hemi-cellulose and lignin.
A paper has just been submitted (April 2007) to CATALYSIS on "A Novel Method and Catalysis for Continuous Biodiesel Production"
Education
B.S. Mankato State University
Ph.D University of Minnesota, Analytical Chemistry, 1967