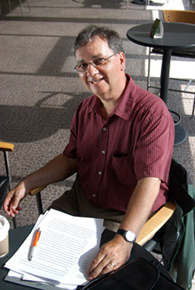 From 2000-2006, I served as Augsburg's Director of Public Relations and Communication, overseeing all public relations, communications activities, publications, sports information, advertising, and special projects assigned by the President while also teaching journalism courses for the English Department. I retired from my administrative duties in the summer of 2006 but continue teaching courses in both journalism and public relations.
Prior to joining Augsburg, I served as Vice President for Public Affairs and Communications at Scholarship America, located in Edina & St. Peter, Minn. In that role, I oversaw all communications activities for the nation's largest scholarship and educational support organization; helped establish National Scholarship Month and partnership programs with America's Promise, The Points of Light Foundation, U.S. News & World Report and USA Weekend Magazine, among others.
My earlier work in education was at South Dakota State University (1972-74), Colorado State University (1974-78), and St. Olaf College (1984-97), sandwiched around reporting and editing jobs at the Sioux Falls (S.D.) Argus-Leader; the Hot Springs (S.D.) Star; and the Rapid City (S.D.) Journal. In addition to many hundreds of news and sports articles and feature stories I wrote while in these professional positions, I have authored six books (five novels and one non-fiction), a one-act play, three songs (words and music), and was a contributing author to two anthologies. I continue to write both journalistically and creatively including work on a new novel.