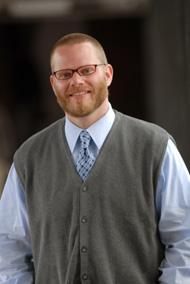 I've been teaching at Augsburg University since 2006. My approach to instruction includes a faithful, honest and critical look at people's lived realities while simultaneously attempting to seek and proclaim meaning, truth and hope within the context of that reality. This is also how I approach my discipline of Youth and Family Ministry. Therefore, I will often incorporate the insights of sociology, psychology, cultural studies, and ritual studies into the class's theological process.
My areas of research include adolescent experiences of God's presence and activity, how adolescents construct theology, contemplative youth ministry practices, interfaith youth work, a vocational understanding of adolescence, and a public understanding of church.
Education
B.S. University of Minnesota, 1997
M.A. Luther Seminary, 2002
PhD Luther Seminary, 2008
Blog
Publications
"Interfaith or Internihilism? The Call to Research and Teach Interfaith Engagement in Christian Contexts." Journal of Youth Ministry (forthcoming, Fall 2012).
"On Spider Webs and Lions: Connecting for the Sake of Our Youth." Connect: Journal of Youth and Family Ministry (Fall 2011), 5-6.
"Cultivating Faith through Interfaith Engagement." Immerse: A Journal of Faith, Life and Youth Ministry 2, no. 2 (July/ August 2011), 46-47.
"Ten theses on youth and the church." Dialog: A Journal of Theology 50, no. 2 (2011), 110-111.
"The Freedom of a Teenager: Vocation and Service Learning as the Future of Youth Ministry," Dialog: A Journal of Theology 47, no. 4 (2008), 327-338. (Co-authored with Mark Jackson)
"Adolescent Experiences of Christ's Presence and Activity in the Evangelical Lutheran Church in America," Journal of Youth and Theology 7, no. 1 (2008), 27-43.
"Discipleship Happens," Connect: Journal of Youth and Family Ministry (Spring 2008), 5-6.
"Backyard and Beyond," The Lutheran 20, no. 2 (February 2007), 34-35
"From Practical to Practicing: A New Adjective for Youth Ministry," Clergy Journal 81, no. 5 (March 2005), 6-9.
"Got Questions?" The Lutheran 16, no. 3 (March 2003), 40-43.
"Rooting Youth in the Spirit," The Lutheran 15, no. 7 (July 2002), 32-33.