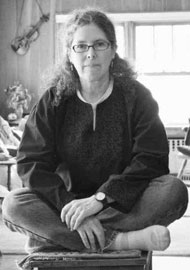 Barbara Nordstrom-Loeb MFA, MA-MFT; Instructor, Music therapy, is a board certified dance/movement therapist and licensed marriage and family therapist as well as a certified Laban movement analyst, somatics body therapist, certified Mindell ProcessWork therapist, and trained in somatic experiencing (body-based trauma work). She has worked as a psychotherapist with a range of client populations- including children, adults with mental illness diagnoses, geriatric populations, adults with physical or medical issues as well as with clients with trauma or PTSD. She has worked in area hospitals, schools, long-term care facilities, as well as in private practice.
Currently she teaches at the Dance Department and Center for Spirituality and Healing at the University of Minnesota and has a private practice as a dance/movement psychotherapist/marriage and family therapist. She also teaches internationally in China and Hong Kong and received a Fulbright Scholar's Grant to teach dance/movement therapy in Tallinn, Estonia in 2011.
As a college and university professor, she has taught courses in movement analysis, dance movement therapy, alternative body therapies, dance, theater, and has been an artist-in – residence. Specific colleges and universities include the University of Minnesota, St. Olaf College, Lewis and Clark College, Reed College, Portland State University (Oregon) and Temple University (Philadelphia). She has also taught at the Lithuanian Performing Arts University (Vilnius, Lithuania). She has traveled, studied and taught in the Middle East, Asia/South East Asia, and the Baltic Countries.