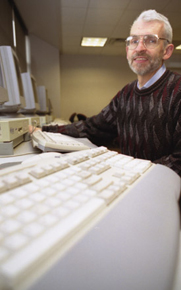 In Noel Petit's class, you might get a bit more than you bargained for. This computer science professor knows a thing or two about meteorology, climate change in the Antarctic, serving aboard submarines, and driving trains. That's right – in his spare time, he drives real trains.
He even once taught a course on transportation focusing on the resurgence of the railroads. Petit and his class took the Amtrak Empire Builder from St. Paul to Chicago for a 3-day stay and visited rail facilities, the Museum of Science and Industry, art museums, and the town of Pullman – a planned community where passenger sleeper railcars were build for nearly 100 years.
Petit encourages people to study computer science because computers and technology are the key to advances in many other fields: medicine, energy, and marketing to name a few. "Every week businesses contact us for graduates and interns," he says. "The computer field is still wide open for ambitious, imaginative folks." He adds that Augsburg's exciting courses in Artificial Intelligence, Robotics, and Database Systems expand students' view of the field.
Augsburg has an active ACM student chapter that brings students together outside of the classroom. The programming team competes against many upper Midwest colleges and universities, and in 2008 they placed third among 40 schools.
Education
B.A. St. Olaf College
M.S. University of Minnesota
Ph.D. University of Minnesota
Retired Captain, United States Navy