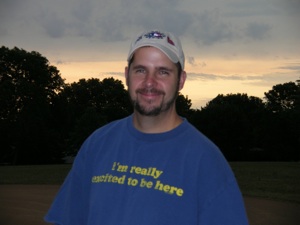 Tim Pippert joined the faculty at Augsburg College in the fall of 1999 and teaches a variety of classes from Introduction to Sociology to Statistical Analysis to the Senior Seminar for the Honors Program.  With teaching as his primary focus, he has conducted several professional workshops and given multiple conference papers on teaching.  At Augsburg he has been awarded two Instructional Course Design grants from the College and now leads other faculty in incorporating the process of backwards design.  In 2011, Tim was awarded Augsburg College's Distinguished Contributions to Teaching and Learning Award.
Using a mix of quantitative and qualitative methodologies, Tim has examined areas such as the family ties of the homeless, street partnerships, the transition to parenthood, the division of household labor among never married adults, and the effectiveness of multimedia in large lecture halls. In 2007 he published his first book, Road Dogs and Loners: Family Relationships Among Homeless Men.  Other recent projects include collaboration with his former students Edward Jay Matchett and Laura Essenburg on two studies examining the accuracy of college and university photographic representations of diversity in recruitment materials  (see link below).
http://www.youtube.com/watch?v=1geoALJctl4&feature=relmfu
Tim's current research has taken him to the oil fields of western North Dakota.  In the past few months, Tim has conducted three research trips to Williston, North Dakota and the surrounding areas.  The focus of his research is the impact of the oil boom and the resulting population explosion on long local residents.  While on sabbatical during the spring of 2013, he hopes to make significant progress toward his second book.
In addition to time spent on teaching and research, Tim devotes considerable attention to service.  At the community level, Tim has served on the Dakota County Child Abuse Prevention Council and as a volunteer soccer coach.  In service to his discipline, Tim is a member of the American Sociological Association's Departmental Research Group, serving as a consultant to sociology programs and departments conducting reviews.  On the regional level, he currently serves as the chair of the Midwest Sociological Society's Finance Committee and as the society's Treasurer Designate.  Tim has also served as the president and treasurer of Sociologists of Minnesota.  On the Augsburg campus, Tim is presently acting as a co-advisor for Alpha Kappa Delta, the International Sociology Honor Society, and is a member of Augsburg's Honors Council.
He spends every moment of his free time exploring Minnesota with his wife, Angela, and their two daughters, Caroline and Isabelle.
---
Education
B.A. University of Nebraska-Lincoln
M.A. University of Nebraska-Lincoln
Ph.D. University of Nebraska-Lincoln
Professional Affiliations
American Sociological Association
Midwest Sociological Society
Sociologists of Minnesota
Areas of Concentration
The Impact of Rapid Population Growth in the Oil Patch of Western North Dakota
Relationships and Survival Strategies of the Homeless
Stratification
Fictive Kin Relationships
Gender and Family Relations
The Marketing of Higher Education
Courses
Introduction to Human Society (SOC 121)
Family Systems (SOC 231)
Race, Class, & Gender (SOC 265)
Juvenile Delinquency (SOC 387)
Statistical Analysis (SOC 362)
Honors Senior Seminar (HON 490)