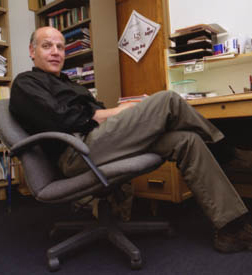 At one time Stuart Stoller owned a small CPA firm, but sold it to get into teaching. He enjoys being connected to college students and the excitement of learning.
Stoller leads the Augsburg Business Center, which places students in companies where they help solve problems or implement projects. The Business Center places the students in real life business projects. "It shows them there is no right or wrong answer in the real world."
In 1996 Stoller was invited by the Dean of Catholic University in Lublin Poland to set up curriculum and teach a two-week seminar for financial auditing. He was asked to return later to set up curriculum and teach a two-week seminar for Mergers& Acquisitions. During his subsequent visits he provided consultation with the Solidarity Labor Party on various issues of privatization.
Through this experience in Poland he was offered the position to set up a "Business Center" at Palacky University in the Czech Republic. This was funded by a grant through the European Union.
Recently, he and psychology professor Emily Hause led a group of students on a study to the Czech Republic. The class, "Social and Cultural Impact of the Emerging Free Market Economy" offered an intensive experience in contemporary Czech culture and society. Students met with business leaders, workers and citizens to discuss the impact of the privatization process and the development of capitalist enterprises in the ex-communist country, and discussed the impact of these changing practices on their lives.
Education
B.S. Long Island University
M.S. Long Island University