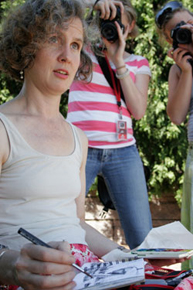 TARA SWEENEY, exhibiting artist and illustrator, has been teaching studio art and design at Augsburg University since 1990. A lifelong delight in learning languages and crossing borders has led this native Midwesterner to make art wandering around in the world. In addition to teaching two-dimensional studio courses and writing for the fine arts, she leads study abroad programs—most recently one that included walking a pilgrimage, village to village through the French countryside, to draw on location.
Using perceptual realism Tara mixes words and images using the media and methods the inspiration demands. Viewers are invited in to experience a sense of place and transformation of their own. Her current mixed media work in watercolor, acrylic, and ink explores figure, identity, and spirituality.
Prior to teaching, Tara was executive art director for Minneapolis St. Paul Magazine, an award-winning designer, and owner of Fruitful Results Design.
Education
B.S. Studio Arts, University of Wisconsin
B.S. Design, University of Wisconsin
M.F.A Visual Studies, Minneapolis College of Art and Design
Classes
Recent Works