Sonja K Thompson
Assistant Professor, Piano and Vocal Coach
Music 12
CB 311
612-330-1277
thompso2@augsburg.edu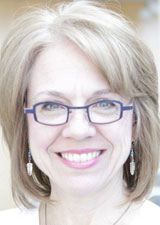 Pianist and vocal coach Sonja Thompson just completed her 18th year at Augsburg College where she is assistant professor of music. She received a bachelor of music degree in theory & composition from the University of Minnesota and a master of music degree in accompanying from The Juilliard School. Professor Thompson enjoys working with both singers and instrumentalists in the Music and Theater Departments at Augsburg. A specialist in singing-acting, she team teaches courses in opera and music theater and prepares and conducts the musicals for the Theater Department most recently "Anything Goes" in April, 2011. As a busy collaborative artist, she shares her knowledge in Augsburg classrooms, teaching piano and vocal chamber music, voice repertoire, and diction.
A lifelong church musician, Thompson serves as assistant music director to Philip Brunelle at Plymouth Congregational Church in Minneapolis, where she plays organ, assists with the choir, and develops new programs for worship, music, and theater for youth and adults. She will serve as interim college organist in the fall of 2011.
In addition to her Augsburg activities, Thompson enjoys a busy performance schedule, appearing regularly as a soloist, with singers and instrumentalists in song and chamber music recitals, and in theatrical and other events. This season Thompson served as music director for "Fiddler on the Roof" and "Quilters" with the Eat Street Players. In the fall she presented a series of concerts in the twin cities and at SUNY Plattsburgh with piano duo partner Karen Becker, played a recital of Scandinavian piano music for the Scandinavian Friends at the Swedish Institute, performed for Thursday Musical with cellist David Holmes, presented holiday concerts with Christina Baldwin and Bradley Greenwald at the Jungle Theater, and played organ for Welcome Christmas with VocalEssence. In January she appeared with Dan Dressen on "Hippocrates Caf," a program blending readings, original music, and songs celebrating wellness and health. In March she was off to Eugene, Oregon for an all Faure recital with soprano Maria Jette, and in April she appeared with flutist Barbara Leibundguth for a program of French music at Gustavus. Summer 2011 events include an evening of operetta for the Summer Music Series at Plymouth Congregational Church with Maria Jette, Krista Palmquist, Vern Sutton, and Jim Bohn, and a program of readings and songs featuring the poetry of Emily Dickinson with actor Barbara Kingsley and soprano Mary Laymon at Morningside College in Sioux City, Iowa.
Sonja lives in the Wedge neighborhood of Minneapolis with her husband, two teenagers, a variety of foreign exchange students and guest artists, two cats, fish and a parakeet. Her hobbies include biking, running, yoga, cooking and crossword puzzles.
Education
B.M. University of Minnesota
M.M. The Juilliard School