Martin Olav Sabo Lecture Featuring: Minnesota Secretary of State, The Honorable Mark Ritchie
Presented by the Sabo Center for Democracy and Citizenship and the Humphrey School of Public Affairs
December 17, 2014, 5:30-7:00 p.m. | Cowles Auditorium, Humphrey School | University of Minnesota
Martin Olav Sabo Symposium: Minnesota Secretary of State Debate
In partnership with the League of Women Voters Minnesota, the Sabo Center hosted a debate of the four candidates for Secretary of State one week before the election. 
October 28, 2014, 7:00-8:30 p.m. | Hoversten Chapel, Foss Center  |  Augsburg College
At this forum Steve Simon (DFL), Dan Severson (R), Bob Helland (I) and Bob Odden (L) debated on topics ranging from Voter ID, military participation in voting, expanded and improved business services, and early voting.
Click here to view a video of this event.
Martin Olav Sabo Symposium: Building the Society We Want, How Will We Get There?
A conversation on society, culture, and the economy with Mitch Pearlstein, president of the Center of the American Experiment, and Dane Smith, president of Growth and Justice. 
March 25, 2014, 7:00-8:30 p.m. | Hoversten Chapel, Foss Center  |  Augsburg College
MITCH PEARLSTEIN
Pearlstein, PhD, is founder and president of Center of the American Experiment, a nonpartisan, tax-exempt, public policy and educational institution which brings conservative and free market ideas to bear on the hardest problems facing Minnesota and the nation. Pearlstein served two years in the U.S. Department of Education during the Reagan and (first) Bush administrations.
DANE SMITH
Since 2007, Smith has been president of Growth and Justice, a nonpartisan policy research and advocacy organization focused on achieving a more inclusive prosperity for Minnesota, and supporting investments and policies that foster both business growth and economic justice. Smith's career includes 30 years as a journalist for the Star Tribune and the Pioneer Press, where he developed a solid reputation reporting and writing about state, local, and federal government and politics.
This Symposium was co-sponsored by the League of Women Voters Minnesota.
Martin Olav Sabo Symposium: Making Change Happen
A symposium on how to create policy change, drawing on advice from those with extensive experience working on climate change, the Minnesota Dream Act, and marriage equality.
November 6, 2013, 7:00 p.m. | Sateren Auditorium, Charles S. Anderson Music Hall
Three panelists will speak about their experience working for policy change.
KATE KNUTH runs the Boreas Environmental Leadership Program at the University of Minnesota's Institute on the Environment. Knuth is a citizen member of the Minnesota Environmental Quality Board and served three terms in the Minnesota House of Representatives.
JUVENTINO MEZA is a founding member of NAVIGATE, a network of immigrant youth and allies seeking to widen the path to higher education for immigrant youth. Meza recently worked as a program assistant at the Citizens League.
SENATOR SCOTT DIBBLE became the third openly gay legislator to serve in the Minnesota Legislature in 2000. After serving one term in the House, Dibble ran for State
Senate in 2002 where he is now serving in his third term.
Women, War and Drones: "An Afghan Woman Speaks Out" featuring Malalai Joya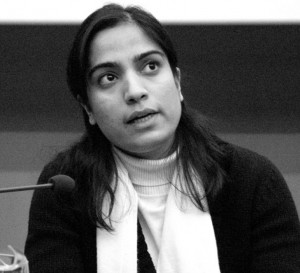 October 15, 2013, 7:00 p.m. | Hoversten Chapel, Foss Center
Malalai Joya is a human rights activist and recipient of numerous international awards. She has been called "the bravest woman in Afghanistan." She was suspended by the Afghan Parliament in 2007 for her criticism of the warlord and drug barons.
Joya is the author of, A Woman Among Warlords: The Extraordinary Story of an Afghan Who Dared to Raise Her Voice.
This event is co-sponsored by: the Department of Political Science, the Anne Pederson Women's Resource Center, and the Sabo Center for Citizenship and Learning, among other off-campus groups.
Martin Olav Sabo Symposium: Funding Minnesota's Future: State Government and its Partnership with School Districts and Communities
March 13, 2013, 4:00 – 5:30 p.m.  | Hoversten Chapel, Foss Center
Featured speaker:
Myron Frans, Minnesota Commissioner of Revenue
Respondents:
Sara Carlson, Mayor and former City Council member of Alexandria, Minnesota
Peggy Ingison, CFO, Minnesota Historical Society and former CFO, Minneapolis Public Schools
Video: Funding Minnesota's Future
Martin Olav Sabo Symposium: "Neighborhood Social Mix: What Do We Know and What Should We Do?"
Sept. 26, 2012
Special guest George Galster, Clarence Hilberry Distinguished Professor of Urban Affairs, Wayne State Univ, Detroit, spoke about issues related to neighborhood sprawl including dynamics, threshold points, and affordable housing. View the video of this presentation to learn more.
Festival of the Commons: Celebrating All That We Share
October 7-8, 2011
Watch this short video to learn about the Festival of the Commons