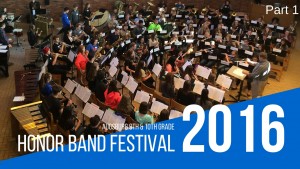 Honor Band and Honor Jazz Band Festival
Welcome students, parents and directors! We are looking forward to an exciting day of music making featuring concert band and jazz band students from the surrounding area.
About the Festival
Date: Saturday, January 28, 2017 – Augsburg College
Cost: FREE for students, directors, and parents
Students: festival includes rehearsals, lunch, master class, and late afternoon concert
Parents: join us for the free concert at 4:30 p.m. in Hoversten Chapel
Directors: sit in on rehearsals, attend master class, join us for a free lunch
Overview & Important Dates
9th & 10th Grade Honor Band
Nominations due, November 11
Notifications, December 14

Any current 9th or 10th grade musician who has skill in performing on a band instrument (woodwind, brass, percussion, or double bass) is eligible to be nominated for the festival by their band director. Directors must complete and send the Director Nomination Form. After nomination forms are reviewed, the Augsburg faculty will notify directors, and selected participants will receive music and additional information about the festival.
Festival Host/Clinician:
Erika Svanoe
svanoeer@augsburg.edu
9-12th Grade Honor Jazz Band
Recorded Auditions due, November 11
Notifications, December 14

Any current 9-12th grade musician who has skill performing on a jazz instrument (saxophone, trombone, trumpet, or rhythm section) is eligible to audition for the festival. Directors should submit a recorded audition that will include an etude and improvisation.  After auditions are reviewed, the Augsburg faculty will notify directors and music will be sent to selected participants.  Full audition details are included below.
Festival Host/Clinician:
David Mantini
mantini@augsburg.edu
Festival Schedule
8 a.m. – 4 p.m. (full schedule to be added shortly)
4:30 p.m., Honor Band & Honor Jazz Band Performance, Hoversten Chapel
Resources
Augsburg Parking Permit (will be added in January 2017)
Festival Coordinator: Cathy Knutson, knutsonc@augsburg.edu
---
Audition Details for the Honor Jazz Band
Audition Components
Generate a separate mp3 recording for each audition component (Make sure the file name is descriptive – e.g. JaneSmithEtude, JaneSmithImprov).
Winds & Brass – Perform the Augsburg jazz etude
Winds, Brass & Rhythm – Improvise over Charlie Parker's Cool Blues.

A basic play-along track and chord charts for Cool Blues are available at Learn Jazz Standards.
Students may listen to one chorus before beginning.
Suggested length of improvisation:

Winds & Brass:  4-5 choruses of soloing
Piano, Guitar & Vibes:  Comp for 2 choruses, plus 2-3 choruses of soloing.
Bass:  2 choruses playing bass line, plus 2-3 choruses of soloing.
Drumset:  Instead of using the play-along track, set players should provide an improvised recording that demonstrates the following – Swing, funk, rock and Latin styles using appropriate fills to transition smoothly between each style.  Each section should be about 1-minute in length.
Digital Ethics
All students and sponsoring teachers are responsible for adhering to the digital ethics policy.
Sound files may not be edited or enhanced in any way.
The sponsoring teacher must be in the room when the audition is recorded. If there are multiple teachers in a school/program, this may be delegated to a member of the team.
Each audition element must be recorded in a separate, single continuous take.
To assist judges, record in a traditional rehearsal space.
If the recording is determined to have been altered, the student will not eligible to participate.
Submitting Audition Materials
Once the recorded materials are ready to go, the online audition form may be completed.
To submit the audio files on the form, we recommend that you include a URL link to a Dropbox or Google Drive folder.
Please complete the Audition Form by Friday, November 11.
Questions?  Feel free to contact David Mantini directly.