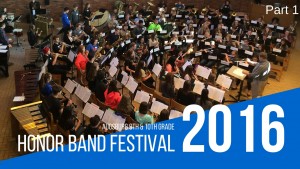 Select 9th & 10th Grade Students, Saturday, January 28, 2017 – Augsburg College
Welcome students, parents and directors! We are looking forward to an exciting day of music making featuring talented 9th and 10th grade band students from the surrounding area. Any current 9th or 10th grade musician who has skill in performing on a band instrument (woodwind, brass, percussion, or double bass) is eligible to be nominated for the festival by their band director. Directors must complete and send the Director Nomination Form (the form will go live later this Fall 2016) by November 14. After nomination forms are reviewed, the Augsburg staff will notify directors by December 11, and selected participants will receive music and additional information about the festival.
About the Festival
Festival Host/Clinician: Erika Svanoe, svanoeer@augsburg.edu
Festival Coordinator: Cathy Knutson, knutsonc@augsburg.edu
Cost: FREE for students, directors, and parents
Students: festival includes band rehearsals, lunch, master classes, and early evening concert
Parents: join us for the free concert at 4:15 p.m. in Hoversten Chapel
Band Directors: attend master class, join us for a free lunch
Important Dates
Director nominations due November 14
Participants notified and receive music December 9

Honor Band Festival – Saturday, January 28, 2017, 8 a.m. – 5 p.m.

Honor Band Literature
Music will be selected from the following:
Details to be posted soon!
Honor Band Instrumentation: flute, oboe, bassoon, clarinet, bass clarinet, Eb contra-alto clarinet, Bb contrabass clarinet, alto sax, tenor sax, bari sax, trumpet, horn, euphonium, tuba, string bass, percussion
Festival Schedule
8 a.m., Check-in, Foss Center Atrium (entrance on 22nd Ave S.)
8:15 a.m., Warm-up & tuning
8:45 a.m., Rehearsal, Band Room M2
10:15 a.m., Break
10:30 a.m., Rehearsal
11:30 a.m., Lunch, Christensen Center
12:30 p.m., Master Classes – Music Building
1:45 p.m., Rehearsal, Hoversten Chapel
3 p.m., Break
3:10 p.m., Rehearsal
4 p.m., Break and Prep for Concert
4:15 p.m., Free Concert, Hoversten Chapel
Resources
About the Augsburg College Music Department
The Augsburg College Music Department offers classical music training balanced by performance opportunities both on campus and in the culturally rich Twin Cities. The instrumental and choral ensembles regularly perform a wonderful variety of music including repertoire from the Lutheran choral tradition, classical, jazz, multicultural music, and contemporary works written/arranged specifically for the Augsburg ensembles. Choral groups include the Augsburg Choir (SATB), Riverside Singers (treble choir), Cedar Singers (men's choir), Masterworks Chorale (SATB), and vocal chamber ensembles. The band program includes small brass, woodwind, and percussion ensembles in addition to the Augsburg Concert Band, Augsburg Jazz Ensembles, and Gospel Praise. The string program includes the Augsburg Symphony Orchestra and string ensembles. Many of the musicians are involved in several different programs while at Augsburg.
The Augsburg Department of Music offers the following degrees:
Bachelor of Music in Performance
Bachelor of Music Education
Bachelor of Science in Music Therapy
Bachelor of Arts in Music Business
Bachelor of Arts in Music
Master of Music Therapy
About the Fine Arts Scholarships
Scholarships worth $3,000 per year are available for students excelling in studio art, music (instrumental or vocal), film, and theatre arts (acting or technical). Auditions are held each November. More Info >