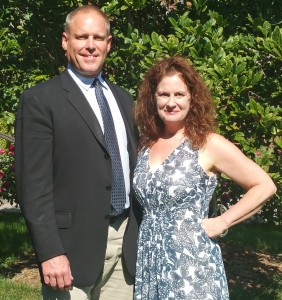 Dear alumni, families, and friends of Augsburg,
In just a few years, at Homecoming in 2019, Augsburg celebrates 150 years as a University. Our sesquicentennial will be a year-long opportunity to reflect on our past and present – to honor our leaders and legacies, and also to discover our roots. One of the most important aspects of celebration will be the chance to honor students, past and present, and their place in the unfolding history of the University. As alumni, faculty and staff, and co-chairs of this year-long anniversary celebration, we feel so lucky to be here and at the table for all that is about to unfold.
Our history with Augsburg is decades long, but it covers only a fraction of what we hope to discover in this milestone year for the University. We're looking forward to learning so much about the University and its history. There's even a book in the works! History professor Phil Adamo has been researching Augsburg's history with students, and this spring will be teaching his first class on Augsburg history.
Our 150th anniversary as a University is a landmark celebration for the entire community. The planning begins now. Everyone is welcome at this table, and you can help.
All alumni, families, and friends are invited to help the University pay tribute to its history, leadership, and our place in in Cedar-Riverside. We hope to honor our alumni, departments, athletics, founders, programs, and partners who have played a significant part in shaping Augsburg into all that it is today. We're reaching out to all academic departments, campus programs, and athletic groups for their input on what will make the celebration of our sesquicentennial year special for all of us. We want to hear from you, too.
Please share your best ideas via this form, or contact us with any questions.
We hope to hear from you!
Darcey Engen '88
Jeff Swenson '79
Chairs of the Sesquicentennial Planning Committee