In 2019, Augsburg marked 150 years since its founding.
Our sesquicentennial was a year-long opportunity to reflect on our past and present—to honor our leaders and legacies, and also to discover our roots.
In a rapidly evolving, fast-paced culture that desires quick and easy answers to complex problems around our neighborhoods and around the world, Augsburg recognizes the value of the long, faithful work of exploring liberal arts and cultivating professional skills that engage both the mind and the spirit. With 150 years of past generations seeking ways to pursue the calling to serve our neighbors and our communities, we move forward with resolute hope in the process of rigorous intellectual practice and equipping students to learn, lead, and live deeply in the world.
Messages from Sesquicentennial Committee Co-Chairs Darcey Engen and Jeff Swenson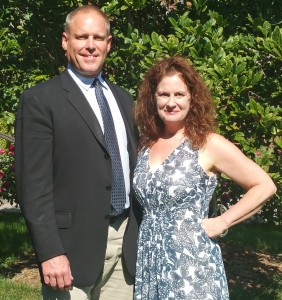 "Augsburg has played a special role in my life, having been an undergraduate here and now a faculty member. It is such an honor to be part of this celebration that allows us to look back on the rich history of Augsburg, mark the excellent work our institution is doing now, and to begin to share with all who are part of this place, a vision for the future. I'm looking forward to working together to commemorate this unique moment."
— Darcey Engen (Augsburg '88), Associate Professor and Chair of the Theater Department
"The sesquicentennial is an important opportunity to bring people together: faculty, staff, students, alumni, faculty emeriti and our community partners. I'm hoping this anniversary allows us to celebrate the past but also look forward to the next 150 years of Augsburg University. I've never been more excited about Augsburg than I am today."
— Jeff Swenson (Augsburg '79), Athletic Director
---
If you have any questions about the Sesquicentennial, please email alumni@augsburg.edu.