List brought to you by Spring 2015 students!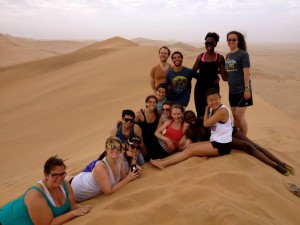 1. Escape from your comfort zone and step outside of your norm.
2. Meet fellow American students who share similar passions and a spirit of adventure.
3. Intern at a local NGO (non-government organization) that not only immerses you in the community, but places you in the heart of current issues Namibia is facing today (something that will allow you to learn and grow everyday).
4. An opportunity to create lasting connections and experience unique personal growth.
5. Make cross-cultural connections between race dynamics in Southern Africa and the United States.
6. The opportunity to open your eyes up to the sides of the world which you haven't seen and don't know about in order to become a true global citizen.
7. Live in a small, intentional community where you can bond with other students on a deep level.
8. Interact with people from Namibia and across Southern Africa. By meeting so many people from around the region and taking time to learn about their various life experiences, it is impossible to come away from this trip believing in stereotype about "Africans". You also get the chance to break down some assumptions about "Americans".
9. An opportunity to live, grow, and learn in an enriching community (and let's face it—the nightlife is awesome as well!)
10. Live in a beautiful country with stunning landscapes, mountains, coast lines, sand dunes. What more could you ask for?!