Amanda is a junior at University of Vermont, who is studying abroad in Mexico with CGEE spring 2016; and studied abroad in Central America with CGEE fall 2015. This is an excerpt from Amanda's blog post, "What to Expect from a Homestay Experience". Her blog is a great resource for anyone considering study abroad in Latin America! She also has travel tips for traveling as woman, and traveling as a woman of color.
Living with strangers who may or may not speak the same language as you can be very intimidating. I've had over 10 homestays in Latin America so far, both rural and urban, and it is safe to say I truly owe my amazing traveling experiences to them. If you want to get a better idea of what it is like to be a part of a homestay, look no further!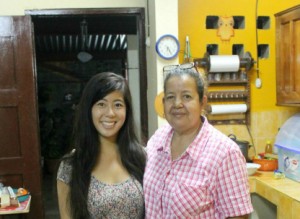 Expect to feel awkward but know that it'll quickly melt away as you are welcomed with open arms and loving hearts: The kindness that has come from each and every host family I have had has never failed to put me at ease.
Your host family is the gateway to becoming a part of the community: I was introduced to so many new people through my families. They also integrated me into a lot of the activities they did both on a daily basis and for special occasion.
You can read the full blog post here; and get other tips from Amanda!