Planes, trains and automobiles or in our case by foot, bus or taxi!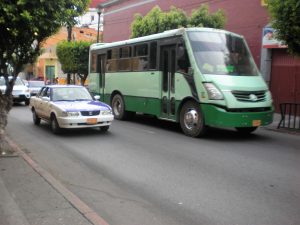 With all the interesting and exciting places to visit in Cuernavaca, we figured it would be important to give you the inside look of what transportation looks like in Cuernavaca!
By Foot
With the convenient central location of Casa CEMAL (CGEE's house and classrooms) you can see quite a lot on foot! You can get to bakeries, grocery stores, parks, cafes and theaters all within a 15-minute walk. We recommend walking because it's free, great for your health and gives you the chance to interact and engage with the community in a more personal level.
Here is a short video to show you what the walk down town looks like!   https://youtu.be/pv5oxwuXVA0
By Bus
If your destination is a little too far to walk, the most economic way to get around is on the Rutas (city bus).  Due to their bright green color some of the buses in Cuernavaca are called Los Chapulines (the grasshoppers).  You can get just about anywhere in Cuernavaca and some of the surrounding towns for 6.50 to 10 pesos (about 50 cents in USD). Two different routes (8 & 4) pass right in front of CEMAL, making it easier to go to and from the school!
Check out this map to get a better idea of Cuernavaca's bus system:
https://rutasdecuernavaca.wordpress.com/2013/03/11/mapa-de-las-rutas/
 By Taxi
The best way to get from point A to B when you are too tired to walk, or your traveling in a group, is in a taxi! Taking a taxi is a safe and convenient way to get to your destination. We recommend that you call a radio taxi company when you are in need of a pickup. Calling a radio taxi requires the driver to radio in when they pick you up, give the destination to the dispatch, and inform dispatch when you safely arrive. Taxis are not metered, which keeps the cost relatively low. A trip to downtown costs around 30 pesos (about $1.75 in USD) and a 30-minute trip runs about 50 pesos (about $2.75 in USD).