This blog post was written by our International Resident Assistant in Mexico, Amber Ramirez. 
---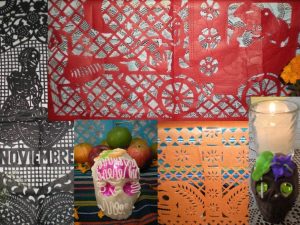 Dedicated to honoring the souls and spirits of deceased family and friends, Dia de los Muertos (Day of the Dead), is a period of remembrance, celebration and spiritual regeneration.  This ritual is commonly celebrated on November 1st, which is primarily the day of the "little angels" or deceased children, and November 2nd, All Souls Day and day of deceased adults. Over the years, the Dia de los Muertos, has become a combination of Pre-Hispanic beliefs and rituals and Catholic practices and symbols. Currently more than 40 indigenous groups in Mexico celebrate el Dia de los Muertos, through diverse rituals. The Aztecs honored the souls of their dead, viewing it as a celebration of life on the ninth month of the solar calendar, August. They made offerings, or ofrendas, in commemoration of loved ones. The souls of the deceased would come back from the paradises of diverse Gods—they went to these paradises based on their form of death. Those who died during combat, as prisoners, and while giving birth would go to Omeyocan (Paradise of the Sun). Individuals who died in association with water—drowning, sacrificed to Tlaloc (God of Rain), or during a storm— would go to Tlalocán (Paradise of the God of Rain). Children went to Chichihuacuauhco where they drank milk from a special tree that had milk droplets. Meanwhile, individuals who died of natural causes went to Mictlán.
The conquest brought about changes in the rituals and beliefs of the Dia de los Muertos. The celebrations dates were changed to November 1st and 2nd, Catholicism introduced symbols and new conceptions of life and death, and Pre-Hispanic rituals were prohibited. Little by little, new religious practices intertwined with Pre-Hispanic beliefs, leading to Day of the Dead rituals that we see now days.
The celebration, rituals, and decorations of home and cemetery altars during this period differ in regions of Mexico. Some cultures believe that there are five days of celebration and commemoration that start with deaths of those who died in accidents; those who were murdered; those who died as infants; the deaths of all children; and end with the deaths of all adults. Others just know about November 1st and/or 2nd. Altars appear in plazas, schools, cemeteries and neighborhoods, as well as in family homes. Some families put up the altar and ofrenda since the 28th of October, put it up on the 31st , or not put one up at all and/or visit their loved ones at the cemetery.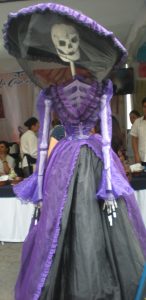 Read what some of our staff members had to say about their rituals and traditions for the Dia de los Muertos:
Guadalupe Vasquez, "Lupita":
I feel a lot of peace at home during this time of year. When I put up my altar and ofrenda  I feel very happy and think if my loved ones are here with me. My mom taught me to put out flowers and a candle since October 29th. My mom and grandmother would tell us that the souls of those that were murdered would return on that day. That day of October 29th, my mother lights up some copal and says a prayer to symbolize the beginning of the ofrenda. My parents and grandparents would also tell me that those who died in accidents returned on October 31. We would put up the big altar and ofrenda for November 1st and 2nd.  The ofrenda on November 1st  is for the children, so we put up a lot of toys, flowers, candles, and candied skulls. My mom always told us that the candied skulls, however, were gifts that were brought to us by the deceased souls.  November 2nd is the ofrenda for all deceased souls. We go to the cemetery on that day, usually in the morning. We go to my father´s grave as a family and we clean, eat a meal with my father at the cemetery, and listen to music. My mom taught us to take down the ofrenda on November 2nd at 12 pm. At that time, my mom says another prayer to indicate the end of the ofrenda and we than all eat the food that had been offered to the souls of the dead.
Since I was young, my mother told me that the Dia de los Muertos, is a tradition that has been celebrated for many years because the souls of the deceased come that day. My mother used to live by a hill and she would say that she would see a big procession of the souls at night. She would see all the candles that would go into a closed church at night and after church she could see all the lights dispersing throughout the town. My mother's grandparents would tell her that those were the souls of the deceased that would all come together that day. The souls would first go to mass and then to the home of their loved ones. One of her friends who did not believe that the souls of his parents came back, actually saw the souls of his parents as they walked away with the ofrenda. Since he saw their souls, he has then placed an ofrenda every year. In my altar and ofrenda I put the food that the souls of the deceased liked, flowers, colored craft paper, and candles. Candles are very important because it is the light that they used to light up their path, and the candles, based on what is traditionally said, light up the path of the souls of the deceased throughout the whole year. I also place a cup of water so the souls are not thirsty, and other things such as fruit. I put up my altar on October 31st. We take down the ofrenda on November 2nd. That day we go to the cemetery and then eat together as a family. During the nights of October 31st and November 1st we stay up late to wait to for the souls. My mother used to do the same since she knew the souls came. My children help me with the altar and since they were little have carried out the tradition.
Sliri Rios (Isabel's daughter):
I have to put up an ofrenda  and cempasúchil flowers . I decorate the altar with colored craft paper. We include fruit, water, candles, and a cross made out of cempasúchil flowers. We also have some pan de muerto for the deceased since their souls revive and come back to eat it. In remembrance of my grandparents, we put some beer and soda since they liked it. At school, my teacher asked us to bring a pan de muerto  and we also had a festival to celebrate the Dia de los Muertos.  My teacher has told us that the souls of the dead will be grateful if we put up an ofrenda  and a cup of water. I help my mom with the ofrenda  and also sit with her for a little bit during the night of November 1st, waiting for the souls to arrive. All of my family gets together to put up the altar and the ofrenda.  We put one up in my grandma's room and the other one in my aunt's room.  We put a lot of food like mole, for dessert arroz con leche, rice pudding, and lots of candied and chocolate skulls.
Our staff and students put a beautiful altar in both CGEE Mexico houses. As we were placing all the elements we learned much about what some of the elements symbolized:
Cempasuchil, marigold flowers: The yellow color of this flower guides the souls of the deceased. The petals can be used to create a pathway to guide the souls of the deceased to the altar and ofrenda.
Candles: Helps the souls of the deceased find their destination.
Cup of water: To quench the thirst of the souls.
Salt: Purifies the souls of the deceased.
Copal: Cleans and purifies the energy in a given space.
Incense: Blesses a given space.
Candied skulls: Represents those who have passed away and reminds us of the cycle of death.
Pan de muerto, bread of the dead: Different interpretations per region, some believe it is a representation of parts of the human body. This bread is given as an offering to the deceased souls.
Other items included in our altar were:
Papel picado: Decorative colored paper used to decorate.
Food for the souls of the deceased: fruit, hot chocolate, bread, etc.
Toys for the souls of the deceased children.
Photographs and items of/for our loved ones.
We want to thank our CGEE Mexico staff for teaching us about the Dia de los Muertos. We would not have been able to put both of our altars together without their knowledge!
---
Sources:
Carrasco, David. "Dia De Los Muertos (Day of the Dead)." Religions of Mesoamerica: Cosmovision and Ceremonial Centers. San Francisco: Harper & Row, 1990. 142-47. Print.
Denis Rodriguez, Patricia Beatriz, Andres Hermida Moreno, and Javier Huesa Mendez. "El Altar De Muertos: Origen Y Significado En México." El Altar De Muertos: Origen Y Significado En Mexico – Volumen XXV – Número 1 – Revista: La Ciencia Y El Hombre – Universidad Veracruzana. Revista De Divulgación Científica Y Tecnológica De La Universidad Veracruzana, 2012. Web.
"El Culto A Los Muertos, Costumbre Que Se Remonta A La Época Prehispánica El Culto A Los Muertos, Costumbre Que Se Remonta A La Época Prehispánica." Secretaria De Cultura. JCT, 31 Oct. 2011. Web.
Ramirez, David Alejandro. "2 De Noviembre- Celebración Del Día De Muertos En México." Universidad De Guadalajara. CGTI – Unidad De Desarrollo De Procedimientos Y Apoyo a Los Sistemas De Gestión, 02 Nov. 2014. Web. 01 Nov. 2016.