Gender, Sexuality, and Women's Studies students are encouraged to take part in either short-term travel seminars or semester abroad programs.
Short-Term Travel Seminars
Gender, Sexuality, and Women's Studies faculty regularly offer short-term seminars during winter or summer breaks.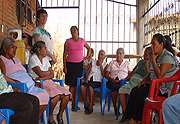 A seminar on indigenous history and nation-building in Bolivia, led by Elise Marubbio and Michael Lansing in winter 2013.Some examples include:
A trip examining social movements & globalization in Cambodia, led by Sarah Combellick-Bidney and Barbara Lehmann in summer 2013.
Semester Programs
Augsburg's Center for Global Education offers a variety of Gender, Sexuality, and Women's Studies courses at its Mexico, Central America, Namibia, and (soon to be) Netherlands sites. The Mexico site offers a particularly unique opportunity to focus on gender issues through its semester-long program, Crossing Borders: Gender and Social Change in Mesoamerica. This program is offered every fall in Cuernavaca, where we have two permanent faculty members–Ann Lutterman-Aguilar and Antonio Ortega–dedicated to teaching about gender and sexuality in a Mexican context.
Gender, Sexuality, and Women's Studies courses offered by CGE include:
WST 324: Liberationist, Feminist, Queer, and Postcolonial Theologies (Mexico)
WST 353: Political and Social Change in Namibia
WST 355: Cultural Conflict and Change in Latin America: The Central America Context (Nicaragua)
WST 359: Women, Gender, and Social Change in Latin America (Mexico)
WST 399: Internship (Mexico)
WST 499: Independent Study (Mexico)
CGE also offers LGBTQ-friendly programs and homestays. For more information, visit: http://www.augsburg.edu/global/about/lgbtqsem.html