American Indian History and Contemporary Issues
"In the Great American Indian novel, when it is finally written, all of the white people will be Indians and all of the Indians will be ghosts." –Sherman Alexie, How to Write the Great American Indian Novel
"Even through you and I are in different boats, you in your boat and we our canoe, we share the same river of life. What befalls me befalls you. And downstream, downstream in this river of life, our children will pay for our selfishness, for our greed, and for our lack of vision."–Oren Lyons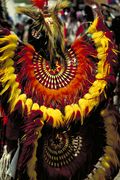 What comes to mind when we see Indian people in traditional dress or pictures? All too often it is a stereotypical assumption about ceremony, spirituality, and tribal culture. What the two quotes and the photographs present are the disconnects between what most people think of when they visualize American Indians and how American Indians think of themselves. And as Oren Lyons makes clear, the resulting gulf affects us all.
As with Alexie's "ghosts," American Indians are elided out of contemporary focus because popular cultural representations of them are so firmly entrenched in American culture.
American Indian Studies responds to these disconnects and the appropriation of Indianness, the telling of tribal histories, cultures, and worldviews from non-Native perspectives. American Indian Studies provides the Native voice in response to centuries of miscommunication, disinformation, and historical erasure.
Here in Minnesota and the Twin Cities we are constantly interacting with each other in our neighborhoods and in business, government, healthcare, and education. We need to understand each other's stories.