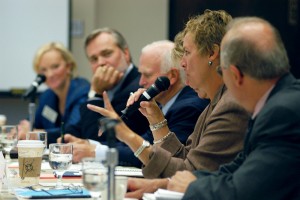 During each academic year, the University community focuses on a set of strategic initiatives that move us closer the vision of Augsburg 2019.
Strategic Initiatives for 2016-17
Complete campus master plan update to address priorities informed by Hagfors Center completion.
Improve performance against enrollment targets in the Adult Undergraduate (AU) and Rochester programs.
Implement student success initiatives and advising framework, informed by program review recommendations, to improve student progress to graduation by 2 percent in 2017.
Further integrate diversity and inclusion efforts into teaching & learning, hiring, and student success programs, with a focus on building toward equity.
Develop case and implementation plan to become Augsburg University in name and structure.
Design and launch new alliance with Luther Seminary; complete initial shared services implementation.
Develop and test endowment campaign case focused on teaching and learning, affordability, and Augsburg's areas of distinction.
Strategic Initiatives for 2015-16
Complete CD phase and plan groundbreaking for the Center for Science, Business, and Religion.
Equip systematic program development and enhancement for enrollment growth.
Create comprehensive plan to become the premier private higher education provider in Rochester.
Launch next phase of Augsburg Promise initiative, new alignment of efforts to raise retention and graduation rates.
Organize ongoing, systematic effort to increase faculty and staff diversity.
Update shared leadership structures.
Position Augsburg as anchor institution, taking a lead role locally and nationally.
Consider becoming Augsburg University.