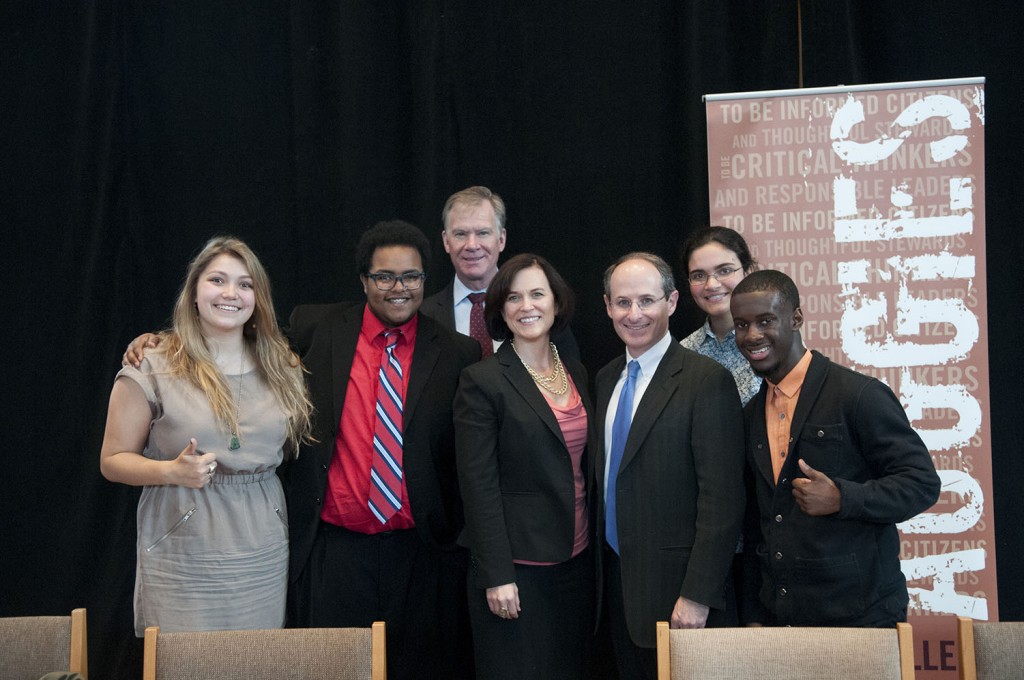 The 2014-2015 school year will mark another impressive year of growth for the Minnesota Urban Debate League (MNUDL), a program of Augsburg College. Under the leadership of Executive Director, Amy Cram Helwich, and with the support of Faculty Advisor, Robert Groven, the MNUDL is on track to serve over 750 students in 40 Twin Cities high schools and middle schools, an increase of almost 200 students from the 2013-2014 school year.
Debate is highly effective in fostering academic skill building among students in the core cities. It requires students to thoroughly research an assigned public policy topic, develop fact-based arguments to support their positions, hone their public speaking skills, and accept criticism to further refine their arguments. This methodology develops research, critical thinking and language skills, which are essential to success in high school, college, and beyond.
Before MNUDL was launched in 2004, debate had been virtually eliminated in inner city schools in Minnesota due to budget constraints. Since then, we've been experiencing exciting growth. This year, MNUDL will host its 2nd Spanish Debate competition and will pilot a Somali-language debate program in partnership with student leaders from Augsburg college.
Such growth is owed, in large part, to generous contributions from Twin Cities family foundations, corporations, and corporate foundations. In 2014, MNUDL received support from the following organizations:
Carl and Eloise Pohlad Family Foundation
Arthur N. Rupe Foundation
The Saint Paul Foundation
Women's Foundation of Minnesota
Donaldson
H.B. Fuller
Social Venture Partners
Carolyn Foundation
Carlson Family Foundation
Oppenheim, Wolff and Donnelly, LLP
Minneapolis Foundation's Youth Philanthropy Fund
RBC Wealth Management
General Mills Foundation
MoneyGram International Foundation
Lockridge Grindal Nauen P.L.L.P.
Nilan Johnson Lewis
Gray Plant Moody & Bennett
Fredrickson & Byron Foundation
Dorsey & Whitney Foundation
Deluxe Corporation Foundation
Thanks, also, to the numerous individuals who support MNUDL each year.
The photo above is from the 2014 Mayors' Challenge – The Great Economic Debate, featuring students from Minneapolis' Washburn and Roosevelt and St. Paul's Central and Como Park.  Yassin Ahmed (pictured in red) has been a part of the MNUDL since he was in 6th grade at Murray Jr. High and later at Como Park. Yassin is now a first-year student at Augsburg College on a nearly full-ride scholarship. Yassin will also be assisting us with the piloting of a Somali Debate Initiative this spring.