The following is a summary of a recent Customized Program organized by CGEE for Providence College, by student Danielle H., recipient of the Mary Witt Scholarship. This program took place in March of 2017. Photos from Danielle as well. We hope all participants had a wonderful time and learned a lot on the program!
The Global Coffee Culture Trip I took with my class, organized by Augsburg College's Center for Global Education and Experience, was life-changing.  Throughout the trip, I was immersed in Guatemala's rich culture, history, and language.  I have never become so close with people in a class in such a short period of time or learned so much in such a short period of time.

After waking up at 3:45 (after my first alarm did not sound) Saturday morning to take a shuttle departing for Logan Airport by 4:15, we made it to the airport to check in for our boarding passes.  After going through security, we waited for our flight and boarded.  The first flight, with a layover in Miami, was very turbulent.  The second flight, from Miami to Guatemala, was much less turbulent.  As the plane lowered in altitude, we saw volcanoes from our window.  The first culture shock we experienced was using the bathrooms in the Guatemalan airport after landing, where we could not flush toilet paper.  Further, we could not fill our water there like we could at Logan or Miami International.
We met Fidel and Gloria, along with the other driver, in the parking lot.  There, we drove to our first hotel, Hotel Pan American, in Guatemala City.  We were shocked at how globalized Guatemala City was – not only were there countless McDonald's, McDonald's delivered!   We were also shocked at all the shanty houses on the hillside that were built on land at a near 90-degree angle.  Our first hotel was very different from those in the United States, but was relatively nice.  We would not realize this until later, but we were placed in a relatively nice hotel with American cuisine the first night to adjust us to Guatemala without complete culture shock.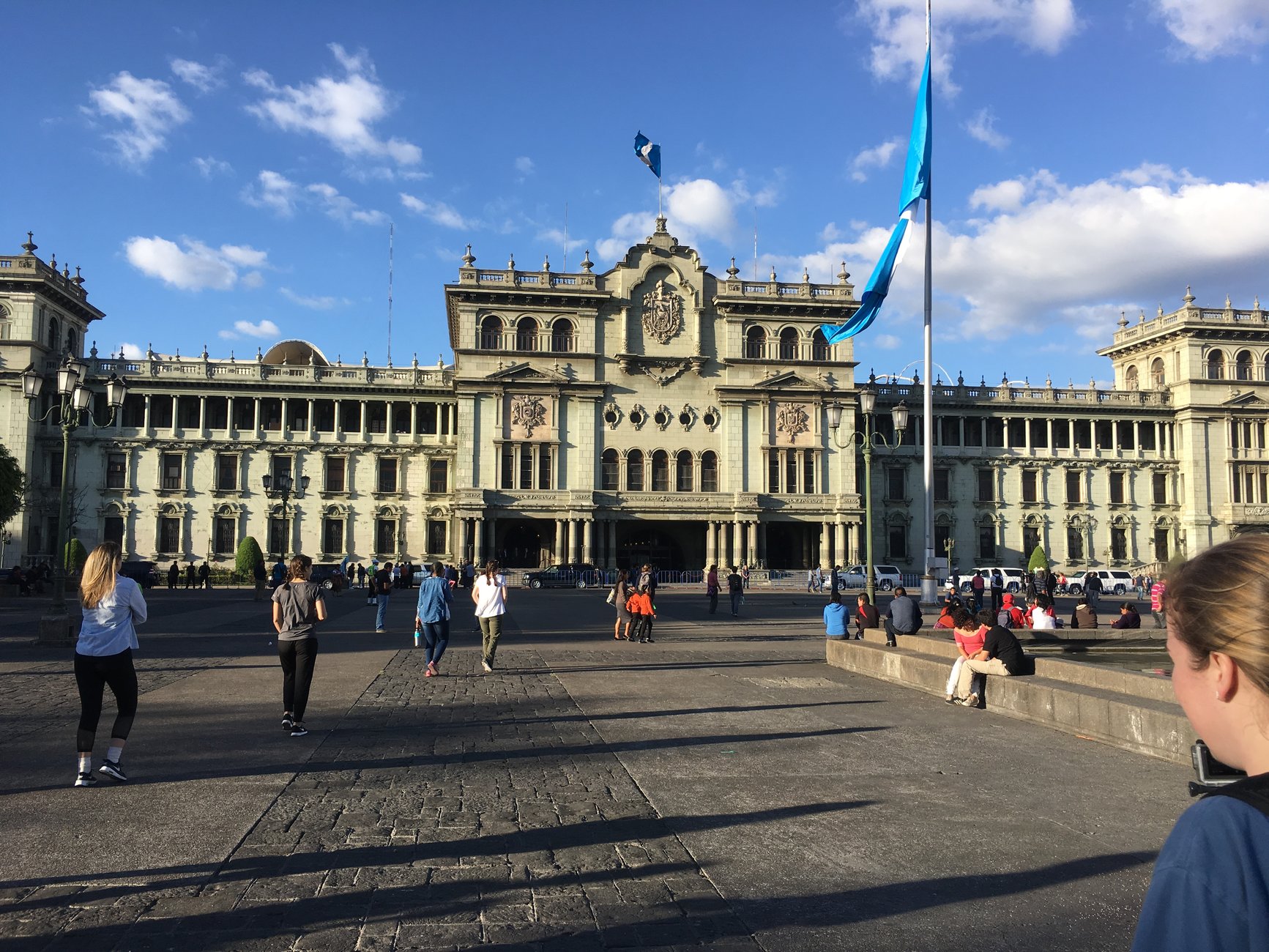 That night, we checked into our rooms, then went back into a meeting room on the first floor of the hotel, where Fidel gave us a general overview of our trip.  We then explored Guatemala City in el Centro Histórico, exploring the new and old government buildings and a cathedral.  After returning to the hotel, Fidel gave us a detailed history of Guatemala, especially centered around government and politics.  After eating dinner – spaghetti with a tomato meat sauce served with traditional hibiscus juice – we went to bed after what felt like the longest day of our lives.  That morning we woke up to pancakes served with fresh fruit, coffee, and hibiscus juice.  That morning we experienced a survey of Antigua, before we would spend more time there as we ended our trip.  Some people in the group opted to go to mass, but I chose to explore Antigua.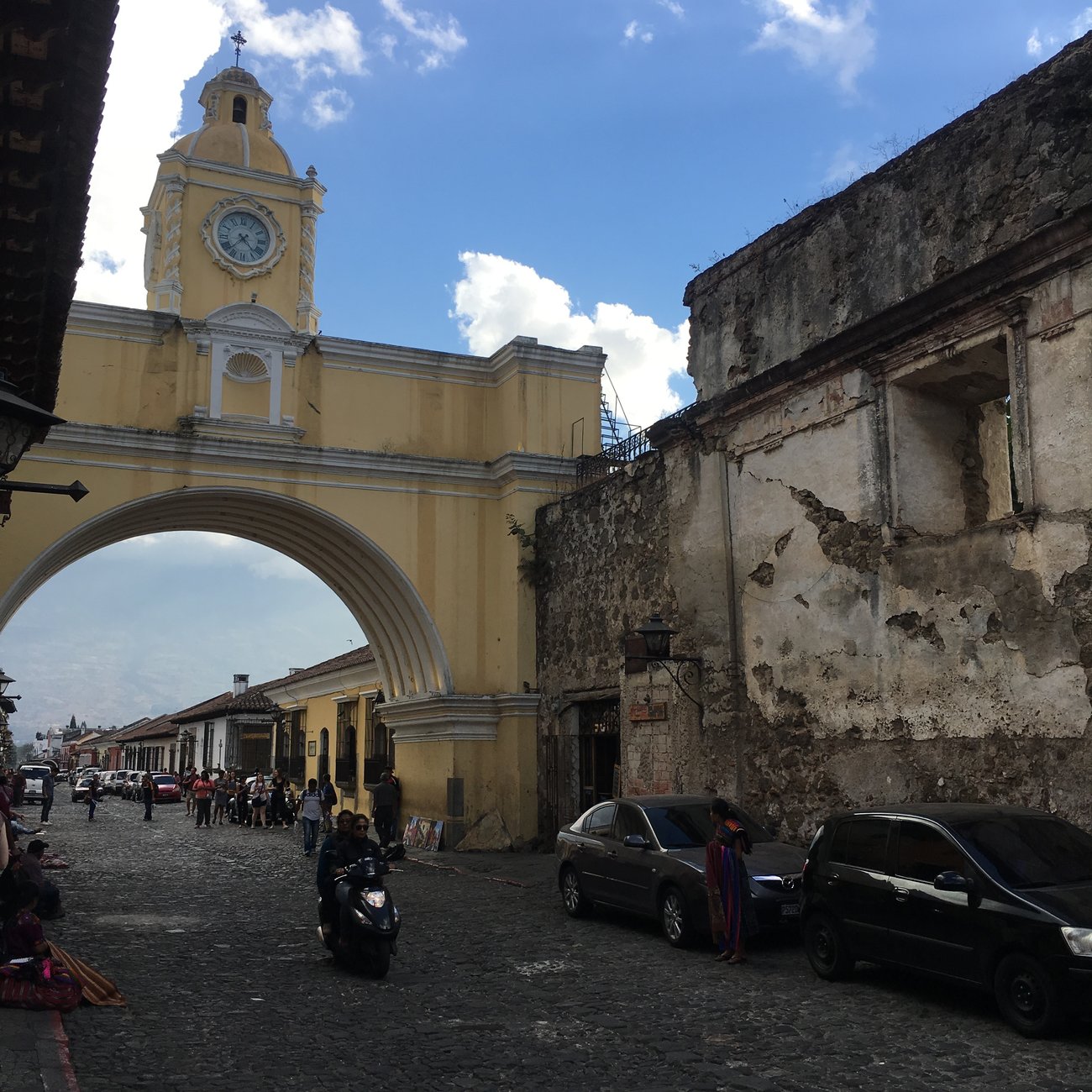 We left the downtown area of Antigua to visit a coffee finca owned by the Dalton family, Finca Filadephia.  The tour was very well organized and informative.  Although the finca was not fair trade, group members of mine were sure to problematize the issue by asking what pickers did during the off-season, for which our guide did not have a well-prepared answer.  During the tour, we explored the finca and the coffee growing process by caravan.  After the caravan, we finished our tour with the coffee production.  We ran into a producer making a television documentary series on coffee while looked at coffee being dried.  At the end of the tour, we made our way over to a café where we tasted black, Arabica Antiguan coffee.  After the tour, we ate a delicious buffet lunch; I took this opportunity to start ordering food in Spanish and to try different Guatemalan cuisine.
After exploring the grounds a bit more, we departed to make our way back to the hotel.  There, we listened to a professor named from la Universidad Nacional de Guatemala, Victor Ayala.  There, he gave us a history of Guatemala and its current problems.  He explained how the truth is relative and how Guatemalans aren't living in poverty, but rather are impoverished.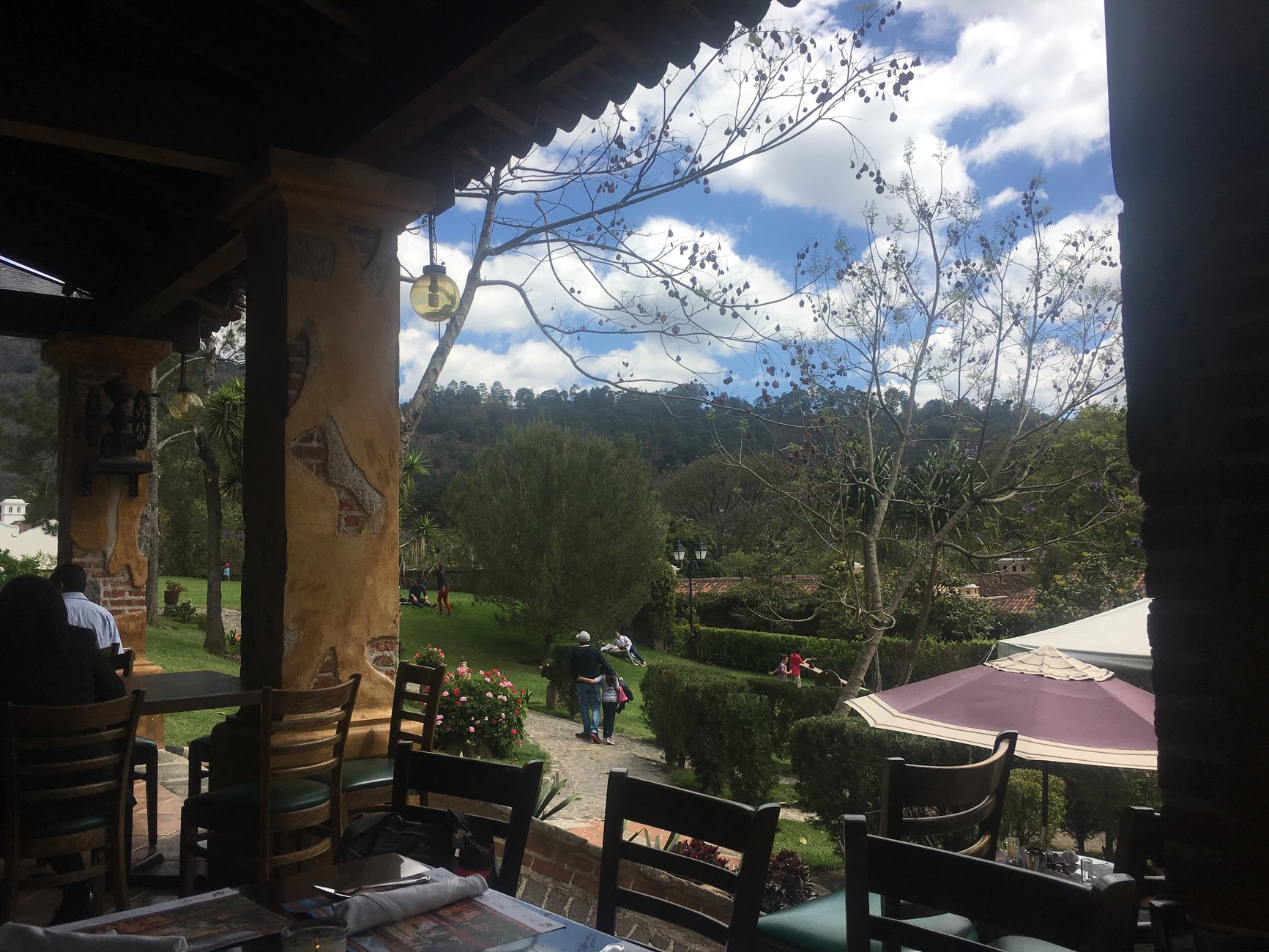 On day three, we ate breakfast then made our way to San Lucas Tolimán.  On our way, we visited a co-operative, Fedecocagua, and listened to a history of the company and its mission.  After and in route to San Lucas Tolimán, we visited a co-operative that worked with Fedecocagua, which was essentially a bank, located in Palin.  After this, we visited a plantation and heard the producer perspective.  the owner was Ladino, and apparently looked down on Fidel and Gloria for their Mayan ethnicity until he saw the rest of the group.  He gave us his relative truth about coffee production, which appeared transparent to me.  He even admitted that his coffee isn't the best like Antigua's, and why he does not fully support fair trade products.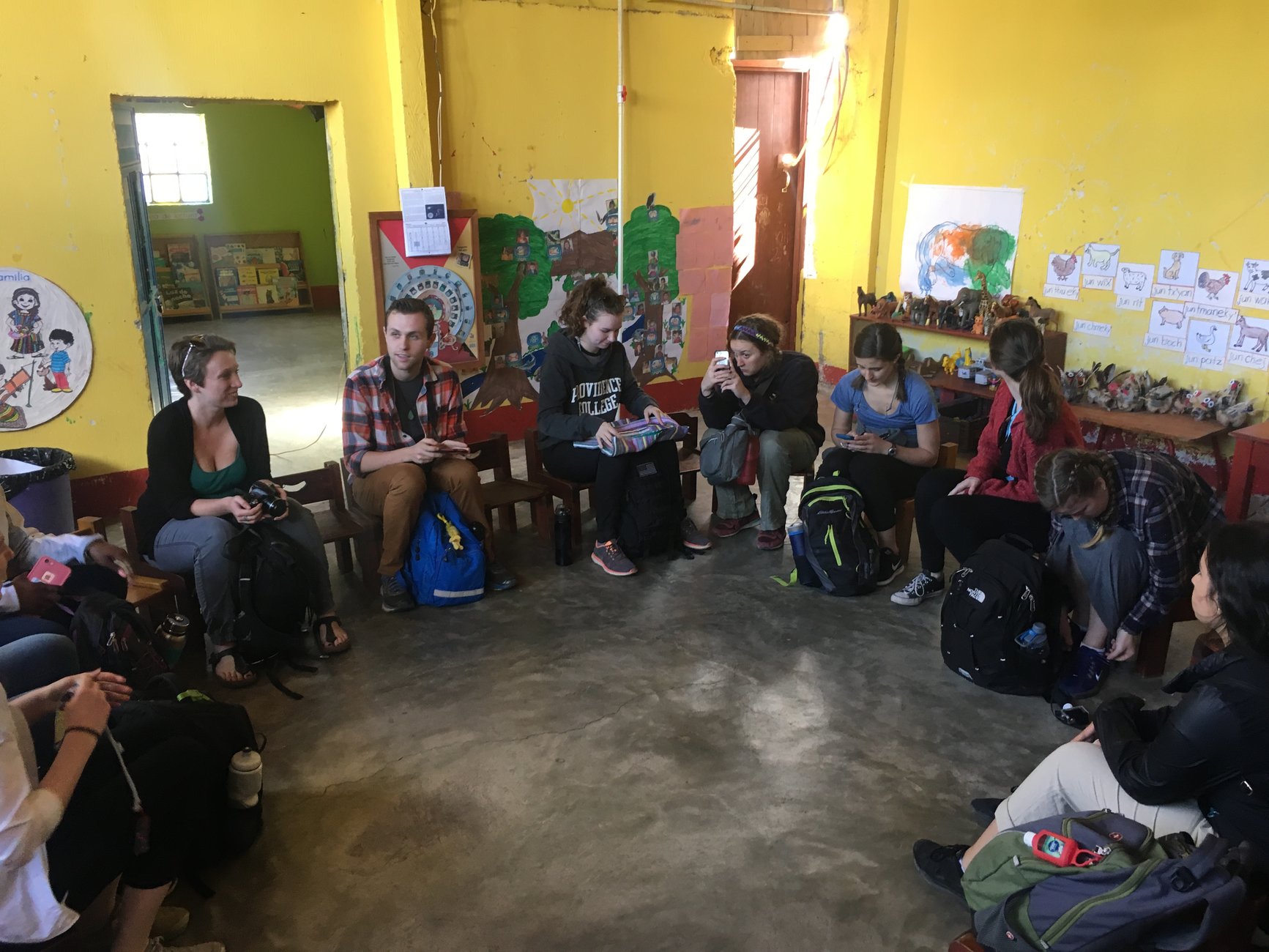 After visiting his planation and viewing el Volcán de Atitlán, we went to our next hotel, Posada los Volcanes.  Since the hotel restaurant was not prepared to serve us, we went to a higher end restaurant at a local resort.  The next day we visited another fair trade, organic organization, CCDA.  Not all of the speakers were present since some were protesting in Guatemala City.  Next we visited a permaculture farm, IMAP.  Here, our speaker spoke to us about sustainability and the anthropology of Guatemala.  After eating lunch and viewing the farm, we bought local products and viewed el Lago de Atitlán.
After returning to our hotel, we took more pictures with the lake.  Later, we visited a speaker who was a friend of Fidel's, and, with the help of a missionary Father Grey, escaped slavery in a coffee finca.  Later, we reflected on our day after dinner.  We went to Cajolá after some other photo opportunities.  Here, we visited a migrant who was deported back to Guatemala.  He was in limbo; had provided for his family after visiting the United States but still lived in Guatemala.  A woman who helped in there, Karen, had moved back to Cajolá and started a business for women there, where they could weave part time for Maya Mam, while their children attended the pre-school and the same building.  Eduardo, our speaker, also started many sustainability efforts, including a chicken farm.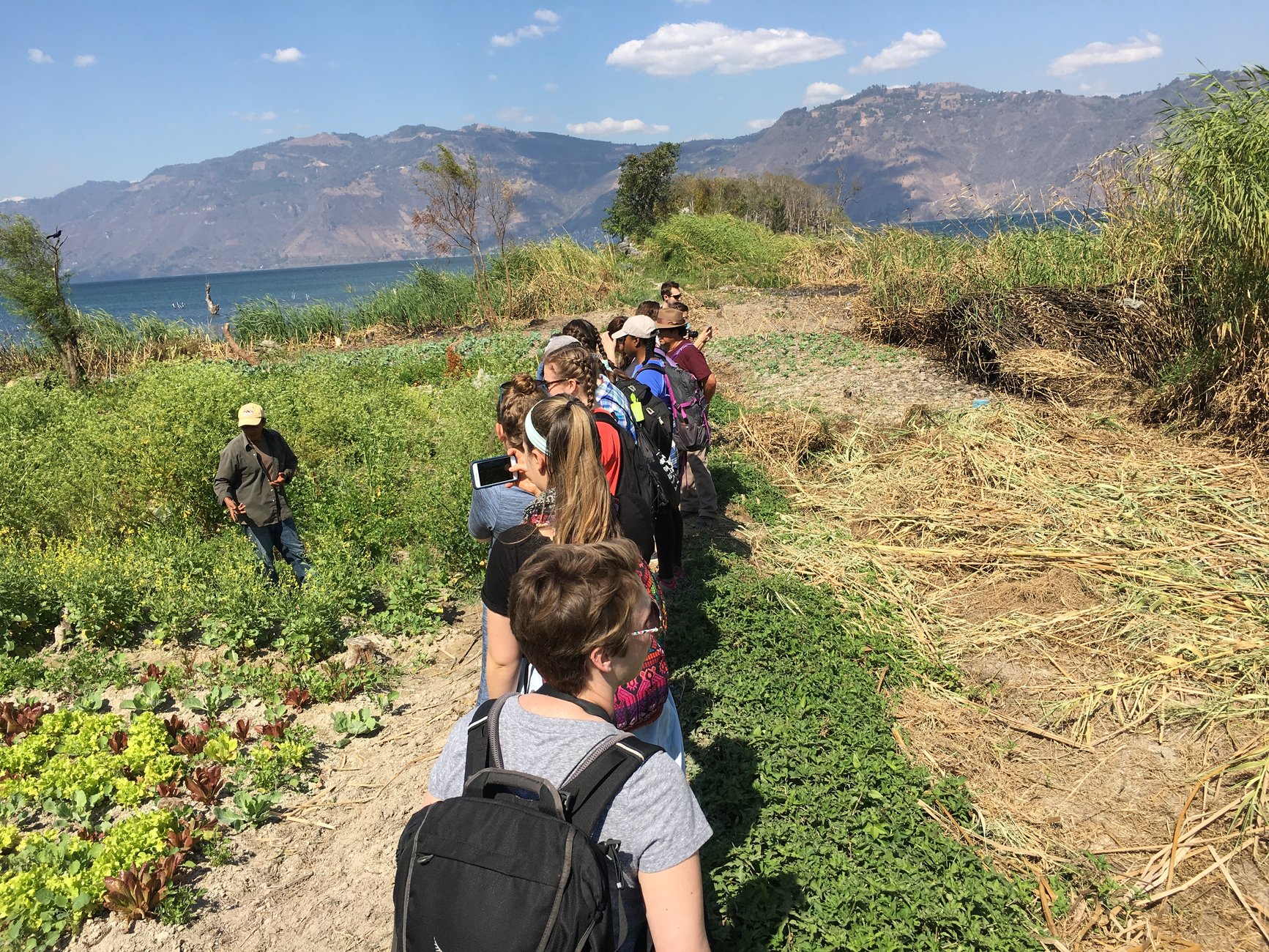 After eating lunch and touring the rest of Eduardo's efforts, we made our trip to Santa Anita where we started our homestays.  There, I met Gloria and three of her four children.  Her sixteen-year-old was married and her youngest, a boy named Sebastian, had Downs Syndrome.  After starting our first official day in the homestay, we observed Gloria's usual work day, which included cleaning her coffee trees.  After hiking there and back, we rested for a while – tired from the manual labor and heat- then ate lunch.  After, we went to the community center where we departed on a tour of the land, which ended in a viewing of the waterfall there, which was well worth the hike.  After that, we quickly washed up, but since the running water was off and we felt guilty using it regardless, we used towelettes to wipe off.  Then we went the to community center to hear a speaker share her experiences as a guerilla in the war and loosing her husband, which was very powerful and moving.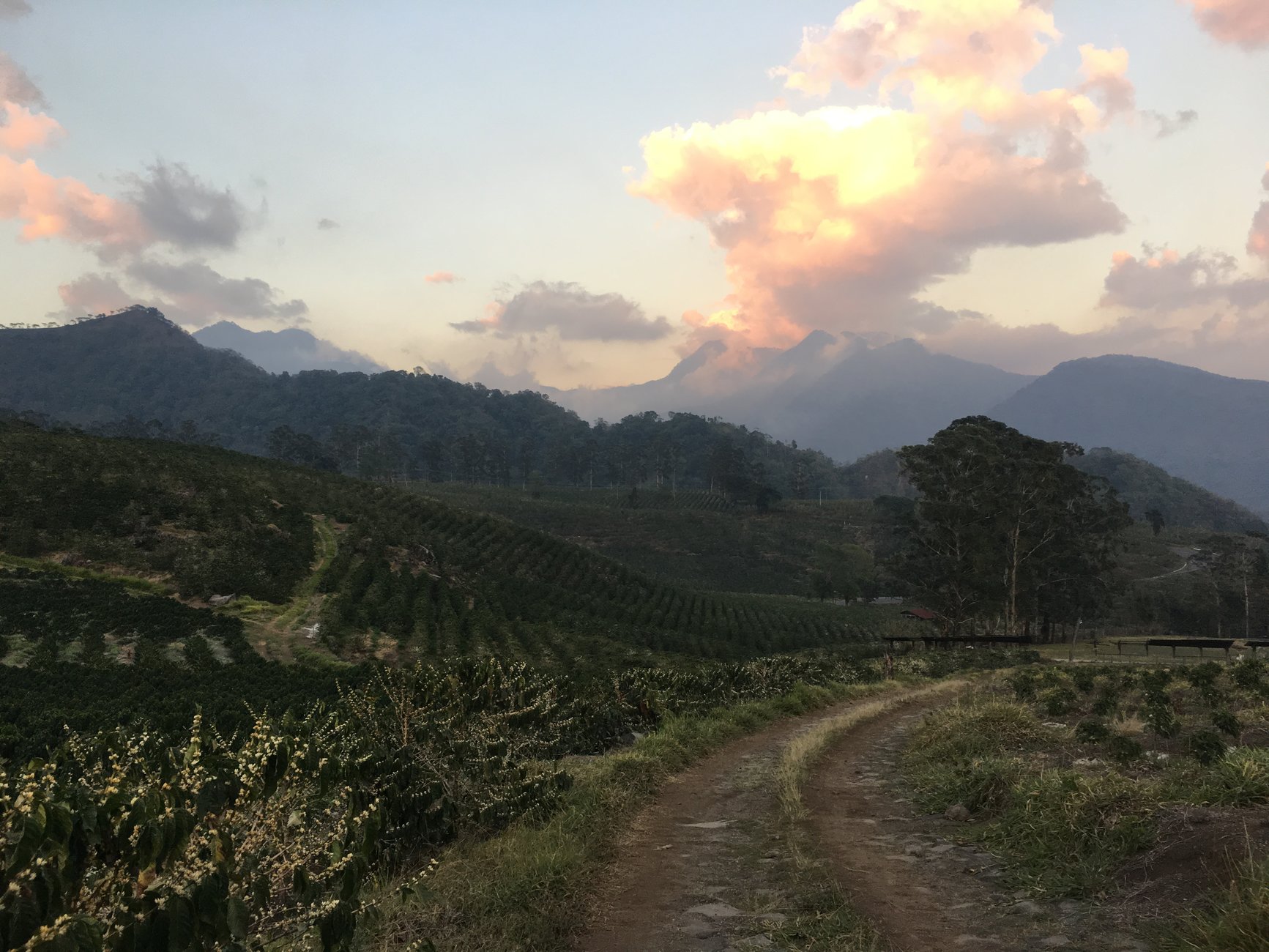 The next day, we had the opportunity to buy coffee and tour the museum before leaving for Antigua.  It was sad to leave Gloria and her family, but a relief to have running water and meals that we more accustomed to.  After a long ride with one pit stop, we arrived at our hotel, Hotel Posada San Vicente.  There, I immediately showered before lunch.  Then, we had some time to shop and explore the city more.  At night, we had our final reflection on the rooftop of the hotel.  Then, we had a delicious dinner and then explored.  The next day, we had our final breakfast in an outdoor café, then left for the airport, it was bittersweet to leave, but it felt like the right time.  Our last day was filled with travel, and by the time we got back, I was happy but exhausted.
Overall, I cannot imagine not having gone on this trip.  As Bob, a retired Providence College professor and expert on Guatemala who travelled with us said, "now you're all ruined."  He meant that now we can no longer look at things superficially and ignore injustices nationally and internationally.