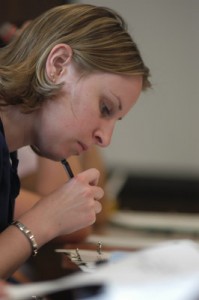 Ready to get started on the track toward your master's degree?
There are many ways to begin.
START THE PROCESS
Admission Requirements
Qualified applicants must hold a bachelor's degree in nursing or have an associate's degree in nursing in addition to a bachelor's degree in another discipline. The cumulative GPA requirement for all college coursework is 3.0.   Evidence of a current unencumbered license as a Registered Nurse  is also required.  Applicants must also have experience as a registered nurse.
Application Process
Application
Complete an admission application  Apply Online (secure web site).  ($35 fee is waived for those who apply online).
Essay
Submit a 2 page double space, typed statement describing professional and education goals.   The essay can be uploaded with the application or emailed as an attachment to gradinfo@augsburg.edu. Please note you can submit the application prior to completing your essay.
Transcripts
Official transcripts from all undergraduate institutions attended, listing all courses taken and any degree(s) conferred. Have official academic transcripts from all previously attended post secondary institutions on their original transcripts (including colleges, universities, and vocational/technical schools and PSEO credits) sent directly to Augsburg.  To request a transcript, call or email the registrar's office at your prior institution. Transcripts from any previous graduate level work are also needed. You may request your official transcripts from your past institutes of higher learning and send them to Augsburg College by mail or electronic transfer.
By mail:
Graduate Admissions Office, CB 65 Augsburg College 2211 Riverside Ave. Minneapolis, MN 55454
By electronic transfer:
Augsburg College uses Scrip-Safe, Docufide/Parchment as official transfer services.  If you wish to use a different transfer service, please call 612-330-1101 to check on the feasibility of other options.  Please send documents to admissiondocs@augsburg.edu .     After you request an electronic transcript, please send an email to gradinfo@augsburg.edu indicating that a transcript has been ordered.  Include your name, desired degree program, electronic transfer service used and the name of the sending institution.
Recommendations:
Three letters of reference from individuals that can give an assessment of your professional and/or academic abilities. When applying online, you will be asked to provide the names and email addresses of three recommenders. Our online application system will then send an email to each recommender with instructions on how to submit a recommendation. Recommenders upload a letter in support of the applicant. Recommenders do have the option to email the letter of recommendation directly to gradinfo@augsburg.edu.
 Evidence of HIPAA (Health Insurance Portability and Accountability Act) Training
Evidence of HIPAA training is part of most employment records. Please submit a copy of this either uploaded at the time of application or emailed as a scanned attachment to gradinfo@augsburg.edu
Immunization Form:
Completed and signed Immunization Form.
Please complete and sign both sides of the form including. We cannot accept doctor or clinic reports in lieu of actual dates in the boxes.