Participants at Health Commons
The people who come to the Health Commons are from diverse cultural and socioeconomic backgrounds. Many of our participants are living on the streets of Minneapolis or are marginally housed.  Everyone is welcome, and all  services are provided free of charge. Health concerns might include nutrition, medication, stress management, respiratory conditions, injuries, skin problems, and chronic disease such as diabetes and hypertension. Frequently, people with these problems come to the Health Commons for its easy access, its supportive environment, and assistance with connecting to other healthcare resources.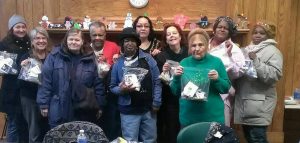 Hours:
Starting in June, we will only be open on Mondays from 9:30am-11:30am in the trailer located in the parking lot of the church while construction is underway.  We also be open on Thursdays starting the first week in September from 9:30am-11:00am.
If you are a student or volunteer, please come 30 minutes before the Center opens for orientation and prep. Usually a short debriefing meeting is held at the end of the day.
If you are interested in more details on the nursing care provided at the Health Commons, please refer to our handbook called The Health Commons: A Handbook of Nursing Practice.
Directions and Parking:
The Augsburg Central Health Commons is located in the lower level of Central Lutheran Church. Free parking is available in the parking lot next to the church by validation. Please bring your ticket in with you. Central Lutheran Church is located across the street from the Minneapolis Convention Center at 333 South Twelfth Street Minneapolis MN 55404.  There is construction being completed at Central Lutheran Church until August of 2018.  We are located in the trailer in the back end of the parking lot until construction ends.  Please meet in the trailers. You can bring your parking card there for validation or ask for help from security in the sanctuary.
Attire:
Attire: Please dress professional causal when visiting this Health Commons. Jeans (without holes) are appropriate. Please don't wear anything revealing. No scrubs or white coats. We will have stethoscopes available for you.