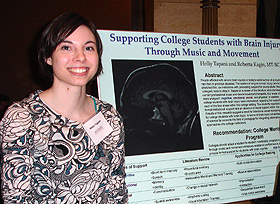 Friday, April 11th
2:00-4:00pm
Oren Gateway Center
Hosted by URGO, McNair, and LSAMP
2014 Abstracts
About Zyzzogeton
Augsburg College celebrates the creativity and scholarship of undergraduate students with its annual Zyzzogeton festival. The festival falls at the end of each academic year and is a culmination of achievement featuring work across departments. A "zyzzogeton" is a green leaf-hopper as well as the last word in the Webster Collegiate Dictionary, which is a fitting symbol to mark the end of the academic year.  The public is welcome, so please come join us for this exciting event!
Abstract and Poster Submission
Submit your faculty-approved abstract in the registration form above.  Your faculty mentor must approve and email your poster to urgo@augsburg.edu by March 14th.
Poster Workshops
Thursday, February 13th @ 3:30-4:30 in Sverdrup 201
Wednesday, March 5th @ 4:30-6 in Sverdrup 205
Poster Guidelines
Work with your faculty mentor to develop and edit your poster.  Posters must be 40″ x 30″ or vice versa in order to fit our poster boards and these settings must be correct in Power Point for it to print correctly. If your poster will be used for another conference that requests a different size, that is okay, but if you are making the poster just for Zyzzogeton, these are the expected dimensions.  We encourage you to work with your faculty member in designing your poster.  Each poster should also include a logo of the funding agency, so if you were funded by URGO, use the Augsburg College logo on your poster. Download the Augsburg College logo