Hosted by URGO, McNair, and STEM Programs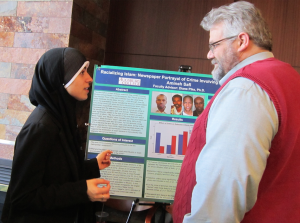 Wednesday, April 18, 2018
3:00-4:30pm
Hagfors Center atrium
About Zyzzogeton
Augsburg celebrates the creativity and scholarship of undergraduate students with its annual Zyzzogeton festival. The festival falls at the end of each academic year and is a culmination of achievement featuring work across departments. Over 80 students participate each year, showcasing their research. A "zyzzogeton" is a green leaf-hopper as well as the last word in the Webster Collegiate Dictionary, which is a fitting symbol to mark the end of the academic year.  The public is welcome, so please come join us for this exciting event!
Students, register to present at Zyzzogeton by March 1st!
2018 Zyzzogeton Registration Form
Poster-Making Workshop: Wednesday, March 7th @6pm in Sverdrup 201.
A sampling of posters from past Zyzzogeton Festivals