If you're interested in the history of Augsburg College, you're probably familiar with "From Fjord to Freeway," a book published by long-time professor of history Carl Chrislock '37 in 1969. The publication, which tells the story of the first 100 years of the College, is receiving renewed interest and attention as we approach the institution's sesquicentennial in 2019.
But no history is complete. Phil Adamo, associate professor of history and director of the honors program, is authoring a new book with students to bring further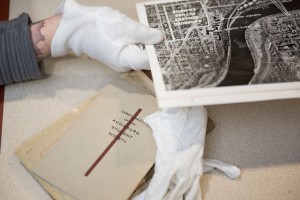 aspects of the impact and personality of the College to life. The project is a deeply collaborative effort, giving students opportunities to hone their skills in research and writing while producing a work for publication and being credited as contributors.
Another group of historians is making use of tools Chrislock could only have imagined in 1969—smartphone apps and the Internet—to share the broader history of Augsburg's Cedar-Riverside neighborhood. Jacqui de Vries, professor of history and director of general education, and Kirsten Delegard, scholar in residence in the history department and creator of the Historyapolis Project, an endeavor to share the first narrative history of Minneapolis in more than 40 years that recently won the Alice Smith Prize for best public history project, are working with Anduin Wilhide, a doctoral student at the University of Minnesota, to develop a digital history tour of the area. The project will provide both a website and apps for iPhones and Android devices.
Learn more about both projects in the Fall 2015 edition of the Augsburg Now.
Dimension 1, Goal 1, Strategy 1: Invest in Curricular Innovation