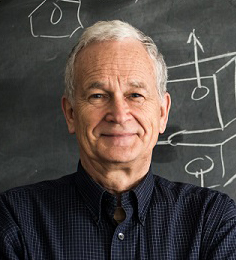 SVERDRUP CONVOCATION
Tuesday, April 12, 2016
11 a.m., Hoversten Chapel, Foss Center
Graphene: A Material From Flatland
Graphene is the thinnest material ever discovered. These sheets of single carbon atoms are less than 0.5 nanometers thick. Its discovery was awarded the Noble Prize in Physics in 2010. Graphene has emerged as a subject of enormous scientific interest due to its exceptional electron transport, high surface area and stiffness exceeding diamond. Current applications and challenges associated with processing and scalability of graphene will be described. Transparent, conductive films are being made by floating graphene oxide on water.  Graphene is toughening plastics which can strengthen wind turbines and has resulted in a startup company. I will also share insights into enjoying God's creation within the flatland of a large university.
---
ABOUT THE SPEAKER
Christopher W. Macosko
Chris Macosko is a professor in the Department of Chemical Engineering and Materials Science at the University of Minnesota, where he is also Director of the Industrial Partnership for Research in Interfacial and Materials Engineering. He received his bachelor's degree in chemical engineering from Carnegie-Mellon University, a master's in chemical engineering from Imperial College (London), and his PhD in chemical engineering from Princeton University. In 2001, Macosko was elected to the National Academy of Engineering, the highest honor for an engineering researcher.
---
Sponsored by the General Leif J. Sverdrup Visiting Scientist Program at Augsburg College. Co-sponsored by the Minnesota Space Grant Consortium.
A college of the Evangelical Lutheran Church in America,
Augsburg College is an equal education/employment institution.