An interview with Hannah Pettersen, Augsburg College, '15.  Hannah studied abroad with CGE in Central America in 2014.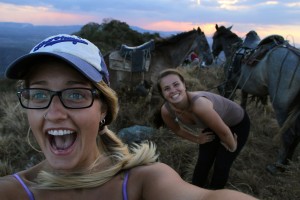 Why did you decide to study abroad?
Since high school, going abroad was a dream of mine, and I was lucky enough to be able to fulfill that dream. I have such wanderlust, and going abroad only enhanced that.
Why did you choose to study abroad in Central America?
I was not looking for the typical study abroad experience, and this program fed into my craving for something different. Being able to live and learn in 3 different countries was remarkable, as well as being able to experience and see many things that changed my life. As a Sociology major, all of the topics that we learned about and discussed were incredibly relevant to what I am passionate about and I could not be happier with my decision.
Why was the Social Change in Central America program so interesting?
Being able to live and learn in multiple countries is what appealed to me about this program. What also made this program so interesting was the amount of homestays we were able to have, I felt that with this I was able to immerse myself in the culture as much as any US citizen could.
What is the best part of the program?
I absolutely loved my one-on-one Spanish course in Spanish. It was a crash course to learning Spanish for me and was definitely something I needed. Pati was an amazing teacher and this class was a great start to my semester.
What would you have done differently?
I wish that I had been able to travel more independently; the schedule throughout the semester is pretty tight.
How has the return affected you?
The return has been more difficult for me than I had anticipated, but it has opened my eyes to the world around me and encouraged me to make a change in myself and work to fight oppression in Minneapolis.