Participants at Health Commons
The people who come to the Health Commons represent diverse cultural and socioeconomic backgrounds. The Health Commons in Cedar-Riverside staff seek to assist people in many ways: to better health within the reality of their personal life circumstances, to help them maintain health despite illness, to support them as they cope with disease, and to assist them in obtaining appropriate medical care. Health concerns include many issues: diet and nutrition, medication clarification, negotiating stressful life circumstances, addressing mental health illnesses, adjusting to life in a new country, navigating the health care system, connecting to community resources, managing the miseries of seasonal colds and flu, help with minor injuries and skin irritations, and dealing with regimens for chronic diseases such as diabetes and hypertension.
Attire
Please wear culturally acceptable clothing for this site. No V-neck or scoop neck shirts. Long sleeves only. Dress pants, no jeans.  No short skirts or shorts.
Parking Instructions, 620 Cedar Plaza
There is a parking lot located at the intersection of 7th street S and Cedar Avenue. Please look for a 1 or 2 hour parking space and come inside. The practicum instructor will give you further instructions on how to secure a space for the duration of your visit.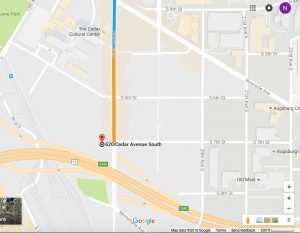 Locations
We currently have multiple locations in the Cedar-Riverside neighborhood.  See the google calendar on the home page for our locations on specific days.
Our primary site is located in the Cedar-Riverside Plaza in the Chase building off of 6th Street South.  This location has drop-in hours from 11-1 pm Monday through Friday, where a nurse or doctor is available for one on one consultation and different groups are held such as nutrition and exercise.  Please see the calendar on the home page for details.
On Friday afternoons from 1-4 pm we rotate the community site where our mobile outreach days are held.  During mobile outreach days, massage, Healing Touch and one-on-one consultation are offered to all community members.  Currently we are at The Cedars (620 Cedar Ave) on Fridays due to construction at our other sites.