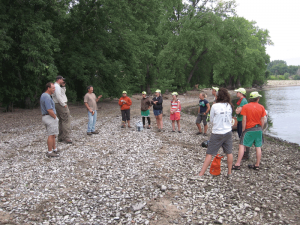 Course offerings (students enroll in 4 of the following courses):
POL 241 Environmental and River Politics (meets Liberal Arts Foundation for Social and Behavioral Sciences)
ENV 310 Environmental Politics Field Seminar.  Studying grassroots organizing and meeting with stakeholders throughout the watershed.
POL 299/410: Democracy in the American Heartland. A study of the state of democracy in America, revisiting  Alexis de Toqueville's classic Democracy in America
ENV 120: Environmental Science (Lab Science)
BIO 495: Topics: Field Research Methods (focus on aquatic ecosystems)
BIO 495 Topics: Ecology of Rivers, Streams, and Estuaries (with lab)
POL/ENV/BIO 499 Directed Research Project (possible Keystone credit)
POL/ENV 399 Internship (with a river-related organization; some internships are paid)
Plus everyone is enrolled in:
HPE 002 Lifetime Activity: Canoeing
Augsburg Experience credit
Program Costs
For Augsburg College students, the cost is regular full-time tuition for four courses (16 credits) plus a $7,500 program fee covering all room and board, supplies, and transportation for the trip. Students must supply sleeping bags, pad, and appropriate outdoor clothing including rain gear (tents and all other equipment and supplies provided by the program).  Full financial aid applies.  More details can be found here.
For students from other colleges and universities, students pay tuition to their home institution.  Students also pay the $7,500 program fee.  Depending on institutional arrangements, the program fee is paid either directly to Augsburg College or to their home institution.  The cost of the program covers tuition for 16 credits (4 courses) from Augsburg College and the associated travel costs for the full semester program.  Contact your study abroad office for details on pricing, registration, and financial aid.  Study abroad staff with questions about payment arrangements should contact Leah Spinoza de Vega, Director of Augsburg Abroad, (devega@augsburg.edu or 612-330-1650).
Instructors:
Prof. Joe Underhill has been engaged in environmental politics for the last 30 years, from the Hudson River to San Francisco Bay to the Mississippi River.  Prof. Underhill teaches in Political Science, Environmental Studies, and International Relations, and in 2010-12 he served as the Batalden Faculty Scholar in Applied Ethics.  His experiential and interdisciplinary courses regularly take students off campus participation in Model UN in New York City, and studying comparative environmental politics in locations including Egypt, New Zealand, Nicaragua, and Tanzania. He has written and presented on the intersection of political psychology, security, and the environment and is author of the book Death and the Statesman (Palgrave, 2001).  His most recent research examines the relationship between urban sustainability and environmental pedagogy. He has taken students out on the Mississippi for the past decade studying the impact of human activity on the river ecosystem and meeting with river rats and local activists in communities from St. Paul to Lake City to Wabasha.
Prof. Thorpe Halloran is an aquatic ecologist whose research focuses on both the abiotic and biotic components that structure the life history strategies of biota within freshwater ecosystems (both vertebrate and invertebrate). At Juniata College and LSU he has taught courses in Limnology, Ecology of Fishes, Field Research Methods and Freshwater Ecosystems. His doctoral research at LSU focused on the distribution of floodplain-dependent larval fishes in the Atchafalaya River Basin. He has experience examining the influence of large-scale riverine manipulations on water quality and seasonal river-floodplain connectivity. Thorpe is also well-versed in the cultures associated with communities throughout much of the Lower Mississippi, with a strong interest in the traditions, myths and the importance of music in the region.
In addition we will have numerous guest lecturers and site visits with field scientists and naturalists along the entire length of the river.
Staff and Partner Organizations:
We will be joined by two seasoned staff from Wilderness Inquiry for the trip from the Twin Cities to St. Louis.  For the Lower Mississippi River portion of the trip, our guide will be John Ruskey of the Quapaw Outfitters.  On the Gulf of Mexico we will work with staff and field biologists from the Louisiana Marine Consortium.  We will partner with colleges, research centers, environmental and arts organizations all along the way.
 Interested?
Contact underhil@augsburg.edu  612-330-1312