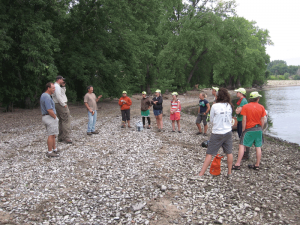 Course offerings (tentative):
POL 241 Environmental and River Politics
ENV 310 Environmental Studies Field Seminar
POL 499 /ENV 492: Directed Research/Keystone
BIO 399 Conservation and Agricultural Biology
BIO 498 Stream Ecology and Biogeochemistry
BIO 499 Directed Research Project
HPF 002 Lifetime Activity
HPF 335 Outdoor Education
Cost
Regular full-time tuition for four courses (16 credits) plus a $5,000 program fee covering all room and board, supplies, and transportation for the trip. Full financial aid applies.
Instructor:
Prof. Joe Underhill has been engaged in environmental politics for the last 30 years, from the Hudson River to San Francisco Bay to the Mississippi River.  Prof. Underhill teaches in Political Science, Environmental Studies, and International Relations, and in 2010-12 he served as the Batalden Faculty Scholar in Applied Ethics.  His experiential and interdisciplinary courses regularly take students off campus participation in Model UN in New York City, and studying comparative environmental politics in locations including Egypt, New Zealand, Nicaragua, and Tanzania. He has written and presented on the intersection of political psychology, security, and the environment and is author of the book Death and the Statesman (Palgrave, 2001).  His most recent research examines the relationship between urban sustainability and environmental pedagogy. He has taken students out on the Mississippi for the past decade studying the impact of human activity on the river ecosystem and meeting with river rats and local activists in communities from St. Paul to Lake City to Wabasha.
 Interested?
Want to get added to the waiting list? Contact underhil@augsburg.edu  612-330-1312