The rain has been falling, hard and steady, the past few years.  After the 2016 election, the daily barrage of vitriol, meanness, and narcissism emanating from the White House; the forest fires, the pandemic, the murder of George Floyd, it's been a lot. I say this as someone in a position of great privilege, who has mostly just had to observe these troubles without being so directly affected by them. This in contrast to the realities for so many, particularly in BIPOC communities.  In my own world, there have been other, more personal, challenges as well.  In 2019 my mother died of cancer, and both my kids had fairly serious health crises.  In the spring of 2019, as my mother lay dying, I was in the midst of trying to keep the 2019 river expedition alive, as it faced a whole range of logistical and financial challenges. In part as a testament to who my mother was as a person, we managed to salvage the trip and help take an amazing international crew down the Mississippi as part of the Anthropocene River project.  Thankfully, the River Semester wasn't scheduled to run in 2020, as we had more than enough to deal with that year.  Then, in early 2021 my nephew took his own life, and my father was diagnosed with congestive heart failure.
While visiting my Dad in early March of this year, helping my sisters with his care, I began thinking again about vessels and building projects. My father is a bronze sculptor who helped me with my first building projects (making skateboard ramps when I was in high school).  His work making vessels has inspired my interest in boatbuilding as well.  My father's house is full of sculptures and drawings, plans, and self-designed contraptions of various sorts, fruitful ground for scheming.  His studio (pictured below) is even more so.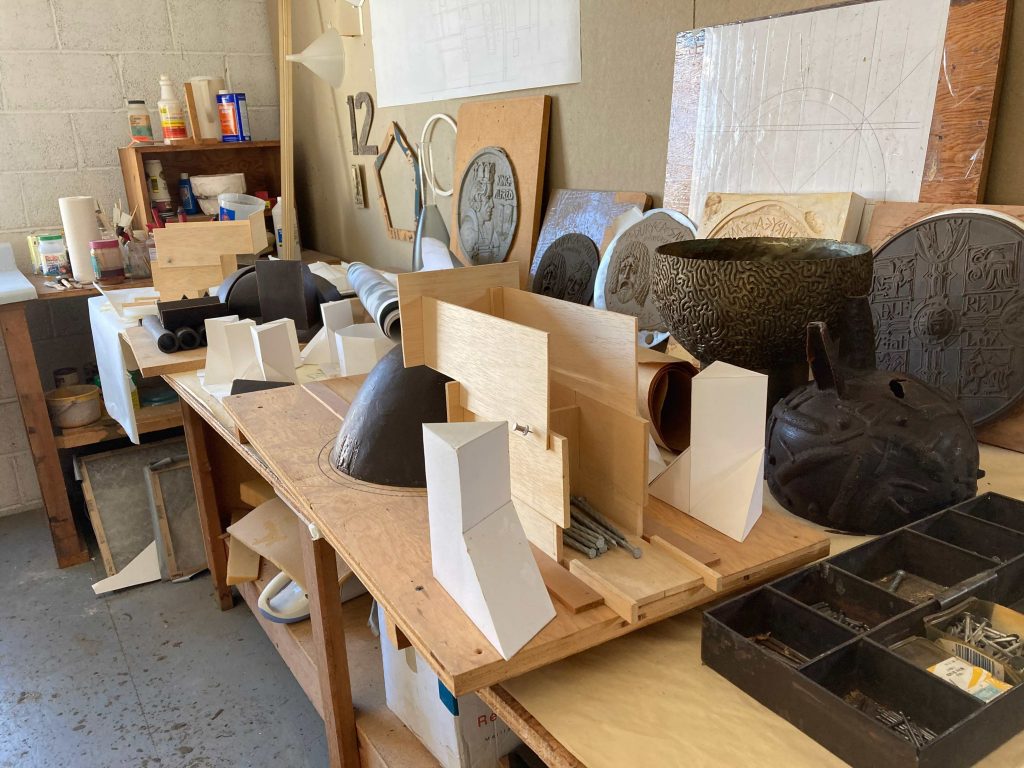 At the time I was visiting him we were also at another crucial decision point for the River Semester.  COVID had made it hard to recruit students, our outfitter came with a hefty fixed price tag, and it looked like we might not be able to run the program again.  Sitting with my father in his home, in the midst of all his creations, I wondered, could there be a way to perhaps organize a slightly smaller expedition and do the outfitting ourselves?  This would make it possible to run the program this fall, but it would require some kind of new boats, since the only boats that are readily available (and within our budget) are tandem canoes, which are too small and unstable for taking a large group of inexperienced paddlers down the Mississippi.  The Voyageur canoes we had been taking in the past are great boats, but had their limitations as well, and are very expensive to buy (or build and maintain).
As I've been doing since I was a kid, I began to make some sketches.  Growing up in a household of artists, there was always some kind of project going on.  I started building things out of wood as part of my initial infatuation with skateboarding, building larger and more elaborate ramps. In my late teens, I became infatuated with, of all things, old wooden sailboats and boatbuilding.  I've always been drawn to the beauty and symbolism of the vessel, of the boat, the ark, that which carries us across, gets us through.  Starting in my late teens I worked as a carpenter, deckhand and rigger on traditional wooden schooners, and during grad school started building a 20-foot wooden sailboat that we now sail on our local lakes.  After moving to the Twin Cities, I soon connected with the local nonprofit Urban Boatbuilders, and then began dreaming about taking students out on the Mississippi.  At my father's house in March, thinking now about our experiences on the Mississippi over the past twenty years, and what might work in terms of some kind of sailboat on the river, I sketched out the following: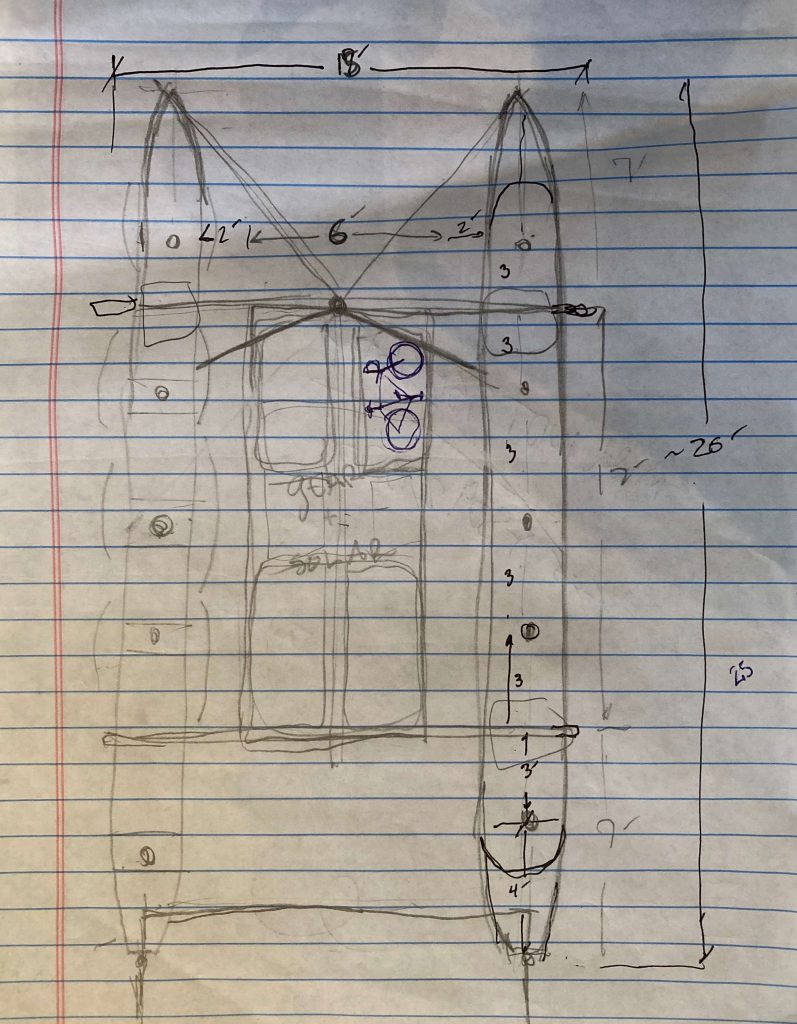 Given all that had been going on, globally, nationally, and personally, I was feeling a sense urgency for change and action.  One way of understanding art is as the process of making beauty out of pain, and in the midst of these times one wonders what kind of beauty might emerge.  The increasing complexity and alienation from the technology which permeates our lives likewise reinforces the importance of some kinds of simplification, a bit more self-reliance, and the need to help students cultivate an understanding that we have the abilities and wherewithal to take care of ourselves, navigate the waters ahead.  In my ongoing efforts to find a way of teaching that extracts itself as much as possible from the fossil-fueled, colonial, racist, and excessively rigid and screen-dominated institutions and infrastructures I have remained dissatisfied with academia's entanglements in these dysfunctional systems.  We need to minimize our dependence upon institutions and technologies that facilitate the perpetuation of the current destructive, extractive, and unjust set of practices.  Part of the response to this entails empowering ourselves, getting local, simplifying, connecting with the world.  These boats take us one step closer to those goals. Last fall, during the height of the pandemic, I did what I could to take class out of the COVID-infested confines of our stuffy indoor spaces and indoor the fresh air and sunshine outdoors.  More of this kind of action is needed.
So now, thinking ahead to prospects for self-outfitting for the 2021 River expedition, I mused about constructing a whole mobile classroom and floating circus of sorts, and thus (why not?) of building two sailing catamarans.  Based on our experiences on the river of the past twenty years these struck me as the appropriate craft for educational expeditions on the Mississippi.  Over the years of going out on the river, we've learned a lot about what works and what doesn't, about this particular river and how to navigate it. So it seemed plausible that we could build some craft that would be easier and more comfortable to paddle, able to travel further, with various adjustments and bits of gear (seats, tables, white boards, carts, etc.) to facilitate learning in this itinerate, river-based mode.  The boats would use traditional technology, be relatively simple to build and repair, and relative easy to transport (designed just to fit inside a big U-Haul).  I laid out the rationale and design parameters for the boats in this concept paper.
I also wanted to draw on the wisdom of the world and of the community, of Traditional Ecological Knowledge (TEK), the beauty of evolution, our own experience, as well as a modicum of the wonders of modern chemistry (the boat does involve some epoxy and fiberglass).  It is important that the boats honor the nautical traditions and geomorphological realities of place.  The original boats on the Mississippi were dugout canoes, built and used by the Dakota, the Mdewakanton, the "people who came from the water." Further north, the Ojibwe built lightweight birchbark canoes on the lakes, that evolved into the Voyageur canoes, and modern lightweight boats we use up north.  The canoe form and paddle would be part of the design.  But we also needed something more stable and capable of carrying a lot of gear. The Pacific island proa or waʻa kaulua a form that my colleague Vicente Diaz has worked with and connected to our local waters as well, provided further inspiration.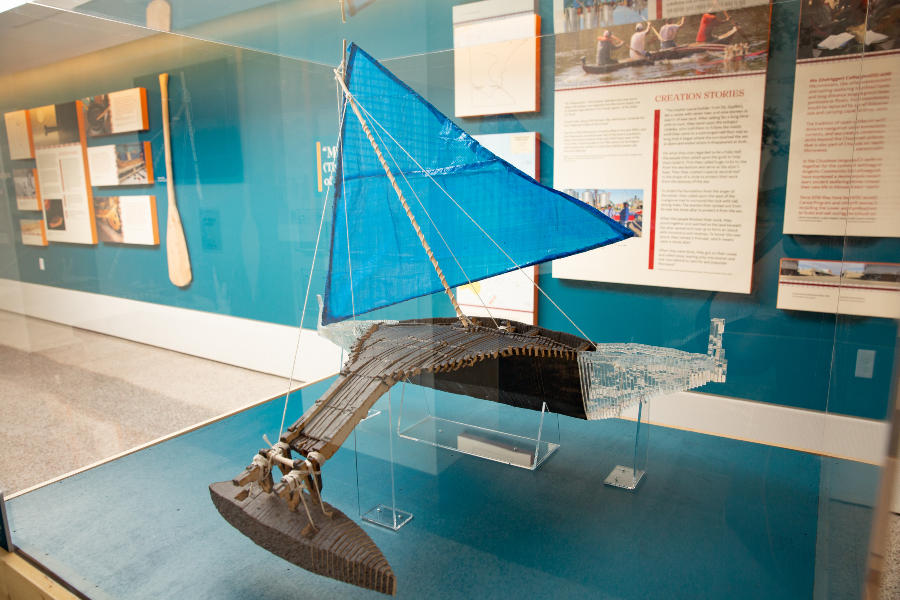 Model of a Micronesian Wa outrigger sailing canoe, part of the "Why Canoes?" exhibit at the University of Minnesota. https://twin-cities.umn.edu/news-events/why-canoes-exhibit-opens-northrop-gallery
In thinking about this outrigger or catamaran design, I was also reminded of the water strider bugs, their wide stance and light feet, and their ability to stand still on the water.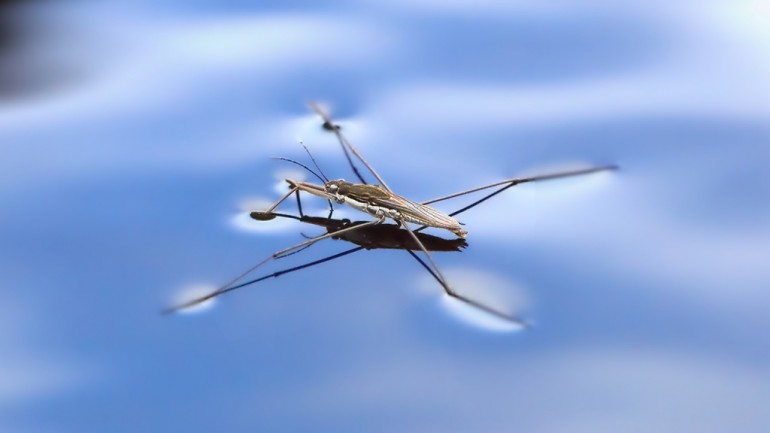 Our journey takes us along the great flyway of the Mississippi River valley, so it also seemed appropriate that we could draw on some of the powers of the migratory birds—like my favorite the pelican—allowing us at times, when the wind turns and pushes on our backs, to spread our wings and fly. The addition of a set of wings (sails) allows us to ride the wind.  Harvesting that form of solar energy, further reducing our reliance on fossil fuels, deepening our connection to our physical surroundings and helping to attune us to weather patterns.
This spring I've been reading and taking some inspiration as well from Harlan Hubbard's interesting account of building a "shantyboat" on the Ohio River.  He and his wife Anna built the boats themselves on almost no budget, grew their own food, made their own music, and lived this incredibly simple, adventurous life on the river.  This also seemed like a welcome antidote to much of the dysfunction of our times.  Given that I've got a limited budget as well, I liked how they were able to create this craft using mostly found and salvaged materials.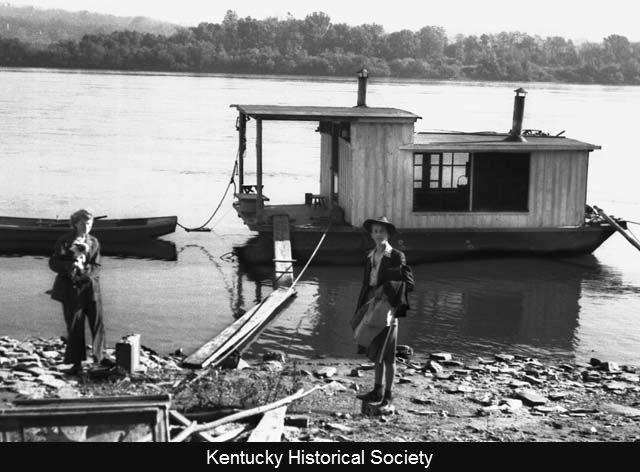 Needing some additional guidance on naval architecture and structural engineering, I reached out to John Marples, a naval architect of multihull boats, who made a number of helpful suggestions and design modifications.  When I asked the Mississippi's two most experienced river rats—John Ruskey and Mike Clark—about this idea of building some catamarans, I was pleased (and not surprised) to learn that in 2010 they had built what they called either a "canoemaran" or a "catamacanoe," using two of their large, Voyageur-style canoes as the hulls, with a large central platform for paddlers and gear.  With two sweeps on bow and stern, they had taken the hybrid craft from St. Louis to New Orleans.  There it was disassembled, with one of the canoes going to Clarksdale, MS and the other to St. Louis, where they are both still in service.  John's sketches and plans for the boat resonated with me as well.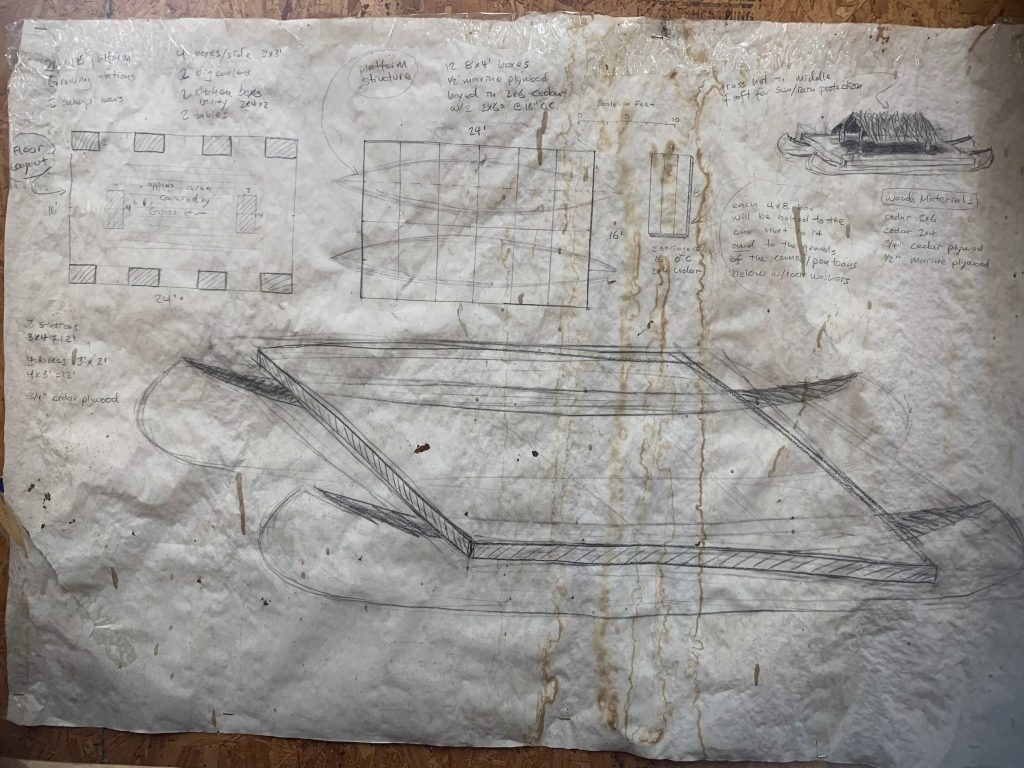 That all led to more drawings, and then this one-twelfth scale model, then more detailed drawings.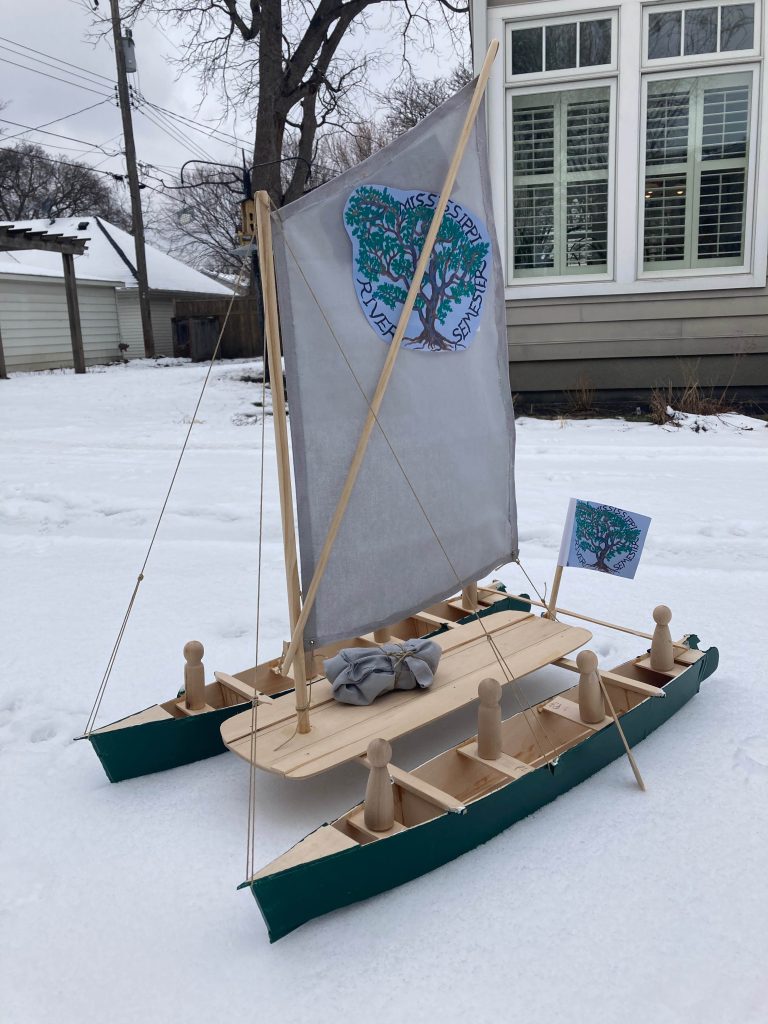 So, what to do during a flood?  Build a boat.  Construction of two full-size versions of these paddle catamarans began in April, and we hope to take them out for a shakedown cruise in August.  To follow the boat building project, you can find an ongoing account of progress in the 2021 River Semester Expedition Log.