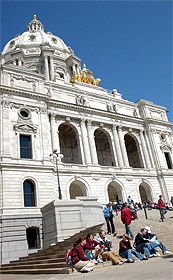 Augsburg College had 1,054 State Grant recipients on campus this past academic year — more than 34 percent of all Augsburg undergraduates. In total, the college received more than $3.4 million in State Grant awards made to Augsburg students.
The impact of those funds on students, a high percentage of whom come from low-income households or are first-generation college students, cannot be overstated.
Yeng Vang '14 says the state grant program helped him attend Augsburg. "I wouldn't be here if not for grants and scholarships. Things like the State Grant allow you the opportunity to go to college, opening the door to future possibilities."
This spring, students are heading to the Capitol again to advocate for the State Grant program and meet with their respective representatives.  STEP-UP, EAST, financial aid, Multicultural Students Services and Athletics are partnering to recruit and train students before the big day.  Students will embark to the Capitol on February 25 for a day that begins with grassroots organizing training, led by members of the Minnesota Private College Council, and ends with a reception at Augsburg College with affiliated representatives and student leaders.
Students – Please register here for Day at the Capitol, February 25, 2015.
Help us advocate for the State Grant program!  Sign up for alerts at http://mnstudentaid.org/.  If you are interested in volunteering as a Advocacy Champion, e-mail Amanda Scherer, assistant director of corporate and government relations, at scherera@augsburg.edu.