As Augsburg approaches it's 150th Anniversary (in 2019), we continue to lift up important parts of our heritage.
2014 Heritage Day with Darrell Guder – Thursday, October 23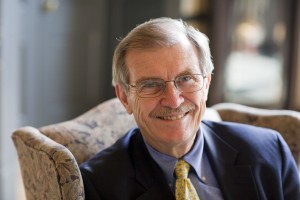 Missional church…So What? Now What?
Open to public, RSVP needed for the Luncheon and Workshop.
Hoversten Chapel (Foss Center) and Marshall Room (Christensen Center) at Augsburg College
11:30am – Heritage Day Chapel
12:00pm – Luncheon Discussion
1:30pm – Pastors' Workshop
Schedule of Events
11:30am – 11:50 AM          Heritage Day Chapel
Christ Alone + Grace Alone + Scripture Alone = Everything is Mission!
Although "mission" is not a theological theme of the Reformation, it is the unavoidable consequence of the basic convictions of the Reformers.  Christ alone + grace alone + Scripture alone = everything is mission!  To be faithful to the Reformation heritage today must mean our hearing and responding to the missionary mandate of the apostolic church: As my Father has sent me, so I send you.
12:00pm – 1:00pm             Heritage Day Luncheon Discussion*
God's Mission and our Calling: You shall be my witnesses. 
If the mission of God defines the church's purpose and conduct, what difference should that make in our congregations? In our classrooms?  In our public conduct?
1:30pm – 3:30pm                 Pastors' Workshop **
The Contemporary Missional Theological Initiative:  Cliché?  Fad?  Resource?   
We will clarify just what the "missional theological initiative" is all about, dealing with its distortions and dilutions as well as its potential.
*RSVP for lunch is required. (See registration links above.)
**Pastors and other off-campus guests can also register through the Pastoral Leadership page.
Guest speaker: Dr. Darrell Guder, Princeton Theological Seminary
Darrell Guder is Princeton Theological Seminary's Henry Winters Luce Professor of Missional and Ecumenical Theology. He received his Ph.D. from the University of Hamburg. As an ordained Presbyterian minister, he served as a student outreach pastor and as a faculty member of the Karlshohe College in the German Lutheran Church. His writing and teaching focus on the theology of the missional church, especially the theological implications of the paradigm shift to post-Christendom as the context for Christian mission in the West. He has served as secretary-treasurer of the American Society of Missionology (ASM) and was president of the ASM from 2007-2008. His scholarly translations include Otto Weber, Foundsations of Docmatics (2 vols.); Eberhard Jüngel, God as the Mystery of the Word; Karl Barth, The Theology of the Reformed Confessions (with Judith Guder; Eberhard Busch), and The Great Passion: An Introduction to the Theology of Karl Barth (with Judith Guder).
About our annual Heritage Day
Augsburg was founded in 1869 by Norwegian Lutheran immigrants seeking to educate leaders for church and society.  Augsburg's Lutheran heritage — its "faith and values" — continues to shape its mission in the midst of a religiously diverse campus and neighborhood. Since 2005, Augsburg College has celebrated its founding by inviting notable guests to speak on subjects related to Augsburg's roots in the 16th Century Reformation of the Christian Church.  Heritage Day themes are aligned with the themes of the Luther Decade initiative. The Augsburg College Heritage Day (also known as "Founders Day") is a joint venture of the Augsburg College Christensen Center for Vocation, the Augsburg College Religion Department, and the Augsburg College Office of the President. For further information, please visit http://www.augsburg.edu/religion/heritage-day
2013 Heritage Day Lecture Dr. Vitor Westhelle (audio)
What is the Church Called to Say About Money, Jobs, and Politics?