On the evening of June 28 – at Augsburg University and on the interwebs of zoom technology – the Riverside Innovation Hub Learning Community gathered folks from over a dozen congregations for a hybrid learning event. These congregational members are currently involved in RIH's two year partnership of exploring the call to be neighbor in our places. The learning arc of this partnership includes moving through and practicing the artforms of what we call the Public Church Framework.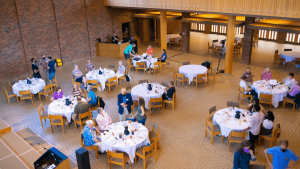 The flow of this process begins with accompaniment – which is listening in relationships and in our neighborhoods without an agenda but simply to hear our neighbor' hopes and heartaches. Teams spent a good portion of the fall and winter focused on this artform, seeking out listening posts in their neighborhoods, doing prayer walks, inviting neighbors to one-to-ones and simply bringing curiosity to the geographical places near their churches. 
Next they began wondering about those stories alongside of their core theological convictions – we call this artform interpretation. Through the winter and spring teams asked the questions: What do the things we believe to be true about God have to say about our neighbors' stories? What do our neighbors' stories have to say about the things we believe to be true about God? Many of them began sharing these insights with other leaders in their congregations. 
This most recent gathering on a warm evening in June marked our fourth large group gathering and the midway point of our intentional learning relationships together around this neighborhood-oriented work. We spent time reflecting with one another about what we have been learning so far in accompaniment and interpretation. We shared encouragement with one another around the challenges and impact of this work. We also introduced a third artform – discernment. This is a communal process of listening for the nudge of the Spirit towards the right next faithful step, given what we have been learning so far from our neighbors' and God's story.   Continue reading "An Evening of Discernment by Kristina Frugé" →