As a way of teaching congregations how to engage their neighbors and neighborhoods, we introduce them to a method we call the Public Church Framework. This framework consists of four movements including accompaniment, interpretation, discernment, and proclamation. These movements bleed into one another and collectively are cyclical, or a spiral, in that they are never completed but rather lead to further and deeper practice of these movements. We like to think of this framework as descriptive of what we do when we are attentive to God and to our neighbor rather than prescriptive of some "one true way" to be in ministry. 
In the beginning of October, we gathered together as a learning community to explore the artform of proclamation.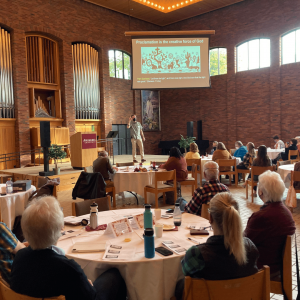 But what is proclamation and why does it matter? 
There is a concept within the philosophy of language called performative utterances. This idea was developed by philosopher John L. Austin in the 1940's and 1950's . He was arguing against the notion that all words and statements are only descriptive or evaluative. He uncovered certain phrases and uses of words that are not intended to be descriptive at all, but are rather intended to be performative. A classic example he would use is the utterance, "'I name this ship the Queen Elizabeth' – as uttered when smashing the bottle against the stem." Other examples would include, "I now pronounce you equal partners in marriage", or "I forgive you." These words and phrases are not describing or evaluating anything, rather they are doing things.
This idea of performative utterances helps us understand what we mean when we talk about the word of God. God's words are performative utterances. They do things. In the first chapter of Genesis, God is not describing or evaluating what the cosmos has or will look like. Instead, God is calling the cosmos into being. "Then God said, 'Let there be light'; and there was light" (Genesis 1:3, NRSV). But the performative utterances of God do not only show up as spoken words throughout scripture. In the second creation narrative, God is not speaking a word – only acting. "In the day that the Lord God made the earth and the heavens, when no plant of the field was yet in the earth and no herb of the field had yet sprung up – for the Lord God had not caused it to rain upon the earth, and there was no one to till the ground; but a stream would rise from the earth, and water the whole face of the ground . . . A river flows out of Eden to water the garden . . ." (Genesis 2:4b-6, 10, NRSV). There are times in scripture where God's creative force is shared with the world through performative utterances, and there are times in scripture where God's creative force is water.
Continue reading "PROCLAMATION AS PERFORMING JUBILEE by Jeremy Myers" →