The Purpose Gap
Dr. Patrick Reyes, Dean of Auburn Seminary
The Christensen Symposium
The Christensen Symposium and the Christensen Center for Vocation were both established to honor the legacy of Dr. Christensen, the 8th president of Augsburg University who served from 1938-1962. His legacy was one of critical inquiry and genuine hospitality. We have drawn these lessons from that legacy which still shape our work.
Christian faith liberates minds and lives
Diversity strengthens vital communities
Inter-faith friendships enrich learning
The love of Christ draws us to God
We are called to service in the world
It is my hope that you will hear echoes of Dr. Christensen's lessons in Dr. Reyes' presentation.
Dr. Patrick Reyes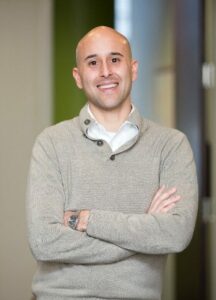 Dr. Patrick Reyes currently serves as the Dean of Auburn Seminary in New York City.
He is a Chicano writer, theologian, and executive leader and the award-winning author of The Purpose Gap and Nobody Cries When We Die. Prior to his current position he was the Senior Director of Learning Design for the Lilly Endowment's Forum for Theological Exploration (FTE) where he provided strategy and direction for their diverse programs, grants, and teams supporting the next generation of leaders. In addition, he led the historic fellowships supporting scholars of color, the Institutional Doctoral Network, and partnerships in theological and higher education.
He is a peer among public theologians and deeply respected among faith and justice leaders and funders. He is the current Board President of the Religious Education Association and serves as the Co-Dean of the Freedom Seminary for the Children's Defense Fund, offering an immersive experience for diverse seminary students from across the country to engage and cultivate prophetic voices with communities on the margins.
Patrick provides leadership on several boards in theological and higher education, publications, and the nonprofit sector, supporting the next generation of Black, Indigenous, and Chicano spiritual and cultural leaders. In the last decade, he has been recognized for his service and scholarship by Austin Presbyterian Theological Seminary, Boston University, Claremont School of Theology, Drew University, Children's Defense Fund, Hispanic Theological Initiative, Hispanic Youth Leadership Academy, and others.
Patrick was also recently inducted into the Morehouse College MLK Jr. Collegium of Scholars. He lives in New Mexico, where he and his family embrace the cultural and religious traditions and communities they have inherited. Continue reading "2023 Bernhard M. Christensen Symposium" →