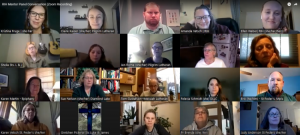 One thing that is unique to our current Riverside Innovation Hub learning community is the opportunity to learn from people who have experienced this learning process before.  In March, we hosted a panel conversation where six leaders, who were previously involved in the Riverside Innovation Hub, shared their wisdom, stories, and experiences of practicing Accompaniment in their neighborhoods with our current learning community. The panelists included Sheila Foster, Claire Kaiser, Lacy Tooker-Kirkevold, John Pedersen, Kaylie Johnson and Pr. Jen Rome. This first blog, of a three-part series, recaps some of the wisdom and practical next steps they shared. 
If you're a current member of our learning community, you can also find a recording of the entire conversation on our Google Site.  
---
Question and Answer:
The first question posed  to the panel was about listening; Do you have any great ideas on how to be a better listener? How do you stay in "listening mode" without jumping to "solution mode"?
Pastor Jen Rome kicked off the conversation by sharing that her team had a hard time getting started. Like many people, they felt unsure about striking up a conversation with a stranger in the neighborhood. They found they had an easier time having the conversations when they were scheduled in advance. They made a list of people or organizations they wanted to connect with in and around the Mac-Groveland neighborhood, and picked who would talk to each person or organization. Then each person reached out to schedule a one to one conversation. A few examples of people they talked with included people on the neighborhood council, the staff at the park next door, and owners of the local businesses. They held each other accountable by reflecting on what they heard from their one to ones at their next team meeting. She also said they kept practicing listening as a skill in other contexts. As they continued to listen in the neighborhood, they were also listening to each other more intentionally at their own meetings and in the other spaces they found themselves in.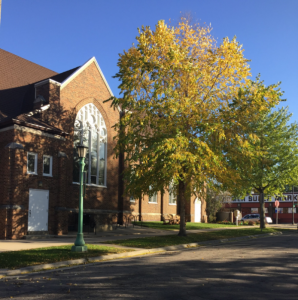 Kaylie said that her congregation didn't necessarily struggle with getting started, but they did find themselves wanting to jump toward solutions. After their team had done some listening in the Cedar-Riverside neighborhood, they met as a team to share what they heard. As they were sharing with each other, they found themselves wanting to jump towards coming up with solutions. They realized they needed to check each other on that, and say, "no we're listening right now, no solution, no answers. It's okay to sit in the discomfort of not knowing what's going to happen." It's often difficult to hear someone's bad news and receive it without suggesting solutions or coming up with ways to fix what we perceive as problems. Their team learned how to listen to the bad news without immediately jumping into action plans, or offering solutions that may have come from assumptions about the neighbor, rather than a deep knowing of the neighbor. Kaylie remarked that learning how to do that is "part of the process, and part of being a good listener." 
Continue reading "How to Be a Good Listener: Advice from RIH Mentors" →