Written by Amanda Vetsch
I, Amanda, said yes to stewarding the young adult book project because I believe that this book, a book that centers and amplifies the voices of young adults who care deeply about the church, will be inspiring, disorienting, and transformational for the readers, congregations, neighborhoods, and communities who experience it. My hope is that this book will inspire us into hope, disorient us away from the status quo, help us remember who God is calling us to be, and continue transforming us so that we can show up more wholeheartedly in the places and spaces we are all called to be. 
We launched the writing phase of the young adult book project in Mid-March by gathering all twenty-two writers at Montreat Conference Center for a Writers' retreat. The purpose of the time together was to become familiar with each other and this project, preview how we plan to write a cohesive multi-voice book with twenty-two authors, and have each set of co-authors spend time together, in-person, to connect and plan.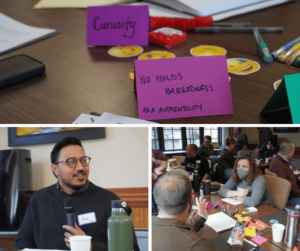 On Friday evening, we gathered for dinner and our first session together. We introduced ourselves to each other, shared what values were carrying into the room and into the project, and looked back at the project's story so far (Project Overview).  
On Saturday, we had a mix of large group time and co-author time. In the large group, we looked at the logistics of how this project will come to fruition, and heard from each young adult author on why the theme they've been chosen to write on is important to the church.
In co-author pairs, each thought leader and young adult spent time connecting, brainstorming a chapter theme summary statement, and creating a game plan for how they'll communicate, collaborate, and schedule their work. Each pair did this work uniquely, some started with a hike, some began with solitude, some took a stroll across the retreat center, some began by sharing about how their lived experiences will inform the theme they'll write on, some began with writing, and all of them did really, really great work. Nicholas Tangen, the thought leader for the Community theme, said, "[He was] glad to meet so many new folks, to conspire and dream with my co-author Amar Peterman (who may be among the smartest people I've ever met), and to laugh way more than I had any business to. When people say the church is dying, I'm going to point back to rooms like the ones this weekend and let them know the church is more alive than ever!"  Continue reading "The Writer's Have Met! A Recap of the Writer's Retreat in Montreat" →