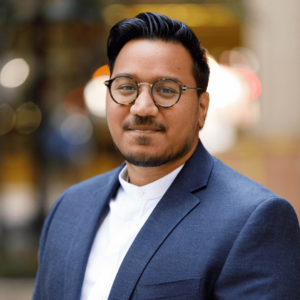 If you have not heard yet, we are writing a book! The purpose of this book project is to amplify the voices of young adults as they articulate their hopes, dreams, concerns, and frustrations to the church. This is not a book about young adults. Nor is this a book about how to attract young adults back to church. Rather, it is a book that offers the wisdom of young adults to the church as it discerns its next most faithful steps in these emerging times. Check out our author team here.
We recently asked the young adult writers for the project to reflect on this experience. Below is the reflection from Amar D. Peterman.
Amar D. Peterman (M.Div., Princeton Seminary) is an award-winning author and constructive theologian working at the intersection of faith and public life. His writing and research have been featured in Christianity Today, Faithfully Magazine, Fathom, The Berkeley Forum,, The Anxious Bench, Sojourners and The Christian Century. Amar is the founder of Scholarship for Religion and Society LLC, a research and consulting firm working with some of the leading philanthropic and civic institutions, religious organizations, and faith leaders in America today. Amar also serves as Program Manager at Interfaith America where he oversees programs related to emerging leaders, American evangelicalism, and Asian America. He writes regularly through his newsletter, "This Common Life." You can learn more about him at amarpeterman.com. Amar's co-author is Nicholas Tangen.
---
Why did you say yes to this experience and what are your hopes for the project? 
Written by Amar Peterman
Writing is always shaped by the people around us and the places we are located in. The best writing embraces this, capturing every moment as an opportunity to tell a story or find meaning in the ordinary moments of our life. Writing that reflects these daily experiences and infuses such with sacred meaning holds the opportunity to change us—even convict us—and as we are called into a community beyond ourselves. 
I said yes to this experience because of this truth. Through this project, I am not only brought into conversation with other writers across the country, but into active participation towards a shared goal. As we gather to envision a hopeful future for the Christian church, we are diligently writing and marking out tangible steps to create equitable spaces of inclusion and belonging for young people in local congregations across the United States. Together, we represent a diversity of experiences, locations, denominations, and beliefs within Christianity. These differences, though, are not a hindrance to our cooperation; they are gifts that allow this project to speak to more people than any individual could do on their own.  Continue reading "Saying Yes Because of This Truth: Project Reflection by Amar Peterman" →