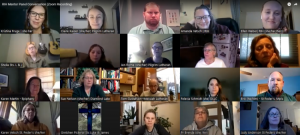 One thing that is unique to our current Riverside Innovation Hub learning community is the opportunity to learn from people who have experienced this learning process before.  In March, we hosted a panel conversation where six leaders, who were previously involved in the Riverside Innovation Hub, shared their wisdom, stories, and experiences of practicing Accompaniment in their neighborhoods with our current learning community. The panelists included Sheila Foster, Claire Kaiser, Lacy Tooker-Kirkevold, John Pedersen, Kaylie Johnson and Pr. Jen Rome. This first blog, of a three-part series, recaps some of the wisdom and practical next steps they shared. 
If you're a current member of our learning community, you can also find a recording of the entire conversation on our Google Site.  
---
Question and Answer:
The first question posed  to the panel was about listening; Do you have any great ideas on how to be a better listener? How do you stay in "listening mode" without jumping to "solution mode"?
Pastor Jen Rome kicked off the conversation by sharing that her team had a hard time getting started. Like many people, they felt unsure about striking up a conversation with a stranger in the neighborhood. They found they had an easier time having the conversations when they were scheduled in advance. They made a list of people or organizations they wanted to connect with in and around the Mac-Groveland neighborhood, and picked who would talk to each person or organization. Then each person reached out to schedule a one to one conversation. A few examples of people they talked with included people on the neighborhood council, the staff at the park next door, and owners of the local businesses. They held each other accountable by reflecting on what they heard from their one to ones at their next team meeting. She also said they kept practicing listening as a skill in other contexts. As they continued to listen in the neighborhood, they were also listening to each other more intentionally at their own meetings and in the other spaces they found themselves in.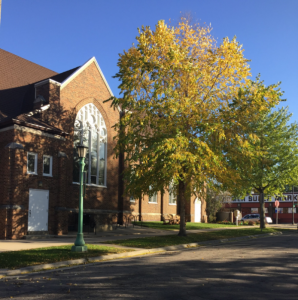 Kaylie said that her congregation didn't necessarily struggle with getting started, but they did find themselves wanting to jump toward solutions. After their team had done some listening in the Cedar-Riverside neighborhood, they met as a team to share what they heard. As they were sharing with each other, they found themselves wanting to jump towards coming up with solutions. They realized they needed to check each other on that, and say, "no we're listening right now, no solution, no answers. It's okay to sit in the discomfort of not knowing what's going to happen." It's often difficult to hear someone's bad news and receive it without suggesting solutions or coming up with ways to fix what we perceive as problems. Their team learned how to listen to the bad news without immediately jumping into action plans, or offering solutions that may have come from assumptions about the neighbor, rather than a deep knowing of the neighbor. Kaylie remarked that learning how to do that is "part of the process, and part of being a good listener." 
Claire added that it's important to listen in the neighborhood during a variety of times. Since she's moved out of the neighborhood, she's now typically only there on Sunday mornings. One of the silver linings of COVID was that it pushed their team to have their meetings outside the building in their lawn space on the corner of St. Clair Ave and Prior. Their team experienced the neighborhood entirely differently at 4pm on a weekday than they did when they came to worship on Sunday morning. Families were out getting their kids home from the nearby elementary school. The park across the street was bustling with people playing sports. People were stopping by the neighborhood grocery store. It is important to notice the rhythms of the neighborhood, and be attentive to the ways people spend their time.
 John resonated with what Pr. Jen had shared. He said, "It's scary to jump into it, but you just have to jump in and practice it like anything else." One thing that helped him overcome his fear was thinking about it as a "posture of curiosity." He didn't have to immediately strike up super deep conversations with strangers necessarily, he just had to continue to show up, pay attention, and have a posture of curiosity. When we show up with a posture of curiosity, questions and wonderings begin to flow, and we might even find ourselves asking strangers questions! For John, the more informal, less scheduled conversations were more comfortable. He shared from his multiple experiences practicing the Public Church Framework that sometimes people are eager to jump in,  and other times people are apprehensive. He noticed that once we start listening to people and hearing stories, we're enlivened and curious to keep listening. He affirmed the importance of practicing a posture of curiosity, because the more you practice, the more it becomes familiar, almost automatic. 
Lacy added on saying, "once you learn these skills, you'll be doing it regularly without even realizing it. And honestly even on top of doing this work in your congregations, in your contexts, it just makes us better humans." They said, "I feel more connected to my community and feel like I can build stronger relationships because of having the skills to do the listening, but also always having that mindset of keeping my heart open for those conversations"
It was an absolute joy to hear the ways that our mentors have been transformed by practicing Accompaniment. Stay tuned to the blog to hear what else they had to share with our current learning community.
Here's a few tips and tricks they shared, that you try out in your own Accompaniment Practice: 
Tips and Tricks: 
Find a way to listen that works best for you: 

Show Up to a Listening Post with a Posture of Curiosity:

What's a Listening Post? A place in your community where stories are shared and heard. 

Have some questions thought out in advance: 

You can pick a set of questions for your whole team to carry with them into conversations. You could brainstorm them together or pull them from other lists of questions.

Check out the second page of One to One Handout for a list of thoughtful questions. 

One to One: The Episcopal Church Handout

Keep practicing!