Written by Brenna Zeimet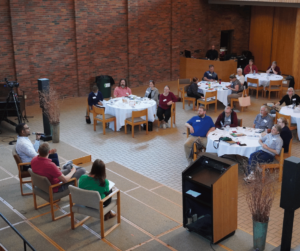 On September 16th church leaders from across the country gathered in person and via zoom to embark on a two year journey towards becoming vital neighbors in their communities. Riverside Innovation Hub launched three cohorts of churches, two of them composed of local congregations from the Minneapolis/St Paul metro area, and one distance cohort that will meet online with congregations from Oregon, Massachusetts, and rural Minnesota. We're inspiring the flourishing of our neighbors from coast to coast!
Cohort participants got the opportunity to learn from our own Jeremy Myers about the Art of Becoming Public Church; diving deep into the cultural impacts of postmodernism, church outreach models, and what our neighbors want and need from us in our post-pandemic world. Jeremy helped our congregations think through what the public church framework is and why it is important to engage our neighbors in a different way than the Church has before.
Next our congregations explored their "why" with the help of our program director, Kristina Fruge. She walked through what it means to engage in "place based vocational discernment in the public square for the common good", and then invited congregations to talk about their own places and the common good they long to work for in their particular public squares. Congregations also heard from each of our staff members about our own personal "why" that drives us to do this work of investing in our neighbors and building relationships for the flourishing of others. Over lunch, cohorts talked with each other about their personal "why" and began to build relationships with the co-laborers that will walk beside them on this journey. Continue reading "The Journey Begins…" →