Phase 1
We were blessed to be invited into the lives of 12 local faith communities currently doing exceptional ministry with youth adults as part of Phase One. These faith communities represent a variety of denominations, cultures, ethnicity, and approaches to ministry. Some have been around for over 100 years while some are just beginning and many are in between. Our research team is working to discover what makes these communities effective with young adults. The analysis is not complete and will, therefore, reveal more as the research team continues to work through it. However, we have already identified many important themes.
Summary of phase One
Phase 2
Applications for Track 1 opportunities closed Apr. 15, 2018. We were glad to partner with 16 congregations for Track 1 and 9 congregations for Track 3! The Riverside Innovation Hub trained 8 young adult Innovation Coaches during August 2018. Each coach was assigned to 2 partner congregations. These coaches worked with their congregations from August 2018 – May 2019, walking with them through our Public Church Framework towards discerning the future of their placed-based ministry with and alongside of young adults.
Summary of phase Two
PHASE 3
In the spring of 2019, teams submitted proposals for grant funds that outline their vision of the proclamation work they want to live into over the next two years, Phase 3 of this project.Thanks to funding through the Lilly Endowment, RIH is able to further invest in these new ideas and new stories through granting dollars to support the Primary Learning Partners creative experiments. Below are some glimpses of the work and stories our Primary Learning Partner congregations plan to enter in to in the coming years. For the next two years, all of our learning partner congregations will continue to gather and learn through Hub-wide learning workshops and Learning Cohort gatherings.  
Our Faith Communities
Blue: Primary Learning Partner (Track 1) Congregations
Orange: Periphery Learning Partner (Track 3) Congregations
---
Bethany Lutheran Church
Through exploring congregational vitality, Bethany Lutheran is seeking to increase their capacity to be faithful stewards of their neighbors' stories and the relationships they have cultivated over the years. As a small but faithful community, Bethany has opened its doors to its neighborhood for many years, especially its homeless neighbors, vulnerable neighbors, Muslim neighbors and youngest neighbors through the ministries of Soup for You! Cafe, CAIR and a neighborhood preschool. The resources of time, funds and learning relationships offered through RIH will support the Bethany Innovation Team through discerning how this small congregation might do the work of the midwife to help birth the next chapter of Bethany and its life-giving relationship with its neighbors.  
---
Bethlehem Lutheran Church
Root to Rise Project: Bethlehem Lutheran partners with Community Cloud Forest Conservation (CCFC), a Guatemalan organization that educates and trains young leaders to alleviate poverty and protect the forest. Young adults, sensing the urgency to listen and respond to all of God's creation, have started an onsite community garden ministry. Our proposal works to deepen and connect these two ministries in meaningful ways through travel grants, eco-justice theological education, intergenerational food prep and green advocacy and structural changes.
---
Church of All Nations
Led by our young adults' commitment to care for all of God's creation and protect the environment for future generations, Church of All Nations' project incorporates their passion for community engagement both within our congregation and extending to our human and non-human neighbors as we reshape our property according to a long-term permaculture design. Reading groups, documentary and discussion nights, and other educational events are blended seamlessly with grounds work, water research, and plant cultivation to create intentional spaces in which the sacred is honored in all forms of life as we move toward healing and restoration together as one diverse but unified body.
---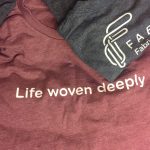 Fabric
Fabric wishes to gain insight into vital issues and circumstances unique to young adults in our reach to help us imagine how to be a valuable source for them to connect through difference-making conversations. We will engage and grow new leadership by running various fast, small, focused, and varied experiments testing what works to connect young adults around those vital life-places. Shaped through parameters of The Lean Startup, by Eric Ries, we will create, launch, and observe Model 1, gathering and digesting feedback to modify Model 2 if needed; and repeat. We hope to find a model that is strong, dynamic, sustainable, and replicable enough to be worthy of significant ongoing investment.
---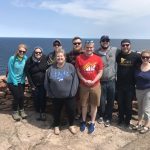 Faith Lutheran Church
Faith Lutheran as a congregation has taken on the mission of being a "Loving, Serving Community." Throughout the RIH partnership, we have taken that lens to explore what God is doing at Faith and within our community. What we discerned is a multi-pronged approach designed for young adults to take the lead on engaging the community outside of our walls. This will take shape through a new relationship young adults initiated with a local elementary school; attending and supporting local Transformative Circles as places to continue to engage with our neighbors' stories; and a variety of other community building efforts with local young adults around meals, exercise and accompaniment practices. We have put a strong focus on forming genuine relationships and being in community with one another.
---
Holy Trinity Lutheran Church
The Innovation Team at Holy Trinity Lutheran Church is excited to launch "Humans of Longfellow," a story-sharing, community-connecting effort to create a new sense of community and relationship in the Longfellow neighborhood. We will tap into a common sense of isolation (in personal, political, spiritual, and community matters), and give people spaces (both physical and on the internet) to be truly heard and appreciate each other's humanity. These spaces will take the form of a story-telling workshop and conference led by Mark Yaconelli and a local community organizer, yoga classes with a spirit-mind-body focus with story circles afterwards, Life Together dinners for small groups to practice openness and vulnerability, and other venues, including a social media campaign and consideration of a podcast. We hope deepened sharing and open-hearted listening will open up new possibilities for relationships, love of our neighbor, hope in humanity, and collective action.
---
New City Church
New City Church works to center marginalized voices and is dedicated to raising up inspired and skilled leaders to bring about God's transformation in the world. That commitment has led to the creation of the Incarnation Fund. The Incarnation Fund supports cohorts of people of color as they access spiritual direction, somatic experiencing (a form of trauma therapy), and nature-based therapy. This investment is inspired by our faith that transformed people transform the world, and is a celebration of the incredible talents and hearts in our community. Combined with New City's current work for undoing white-body supremacy, this grant will help launch New City Church into a new chapter of deep spiritual work that will benefit people of color, the entire church community and, ultimately, the whole city of Minneapolis.
---
Our Redeemer Lutheran Church
While working through experiments with accompaniment, our team discovered shared curiosities among leaders and young adults at neighboring congregations also wrestling with how to respond to our changing culture and community. In the next stage of the partnership, ORLC is seeking funding to host monthly gatherings around food and storytelling for young adults. This collaborative will also be learning and practicing accompaniment together in our neighborhoods. This will be an opportunity to develop deeper relationships of trust and exploration of deeper issues in our lives and community. We hope this will help us discern new ways we live out our faith in this community with our neighbors.
---
Pilgrim Lutheran Church
Our proposal consists of four work streams, two we will develop during the first year and two we will explore during the second year. The first stream is a series of interactive art projects that will be installed outside the church in the surrounding neighborhood, with the goal of increasing visibility and inviting our neighbors into a conversation about what faith means to them. The second stream is establishing a modified young adult gathering that incorporates guest speakers, community building, and conversation. In the second year we will explore other projects including developing a program for "Blessings for Real Life" to acknowledge young adult transitional moments or milestones, and a project to explore intentional young adult residential community.
---
Redeemer Lutheran Church
Redeemer's Innovation Team plans to use grant funds to strengthen our relationship with a Northside Parish congregation, Salem Evangelical Lutheran Church, through community building events and cooperation with their long-standing food-serving presence at the State Fair. These funds will allow us to walk alongside our Northside siblings and model proven community building activities, as we plant the seeds for a sustainable community-centered witness, with collaboration at its core.
---
Shepherd of the Hills Lutheran Church
From public pastor to public church: our goal is to create long-term cultural change that drives toward deepened young adult and community connection and engagement. Through a church leadership consultant, we will work to live out our strategic desire to be a positive influence in our community by envisioning what expectations we need to have for church council leadership and engagement in the community. Through the commissioning of a new liturgy written by a team of pastor, musician, church and community leadership, we will work to reflect the needs, hurts, and hopes of our community in worship. Through a deepened partnership with one of Hopkins' most influential community engagement leaders, we will work to move from a volunteer model to a model of community engagement. Through the creation of a community podcast, we will interview community members and leaders about their hopes and dreams for our community alongside the ways they care for and tend to their soul and spirit. Lastly, we will deploy our program staff into the community as community chaplains to listen, learn and provide "chaplaincy care" to young adults and other members of our community.
---
St. Andrew Lutheran Church
St. Andrew will be planning regular gatherings of young adults (2 each quarter) around themes of being playful and faithful. We will also be forming a fund for innovation grants that would each be led by a young adult sponsor. The sponsor would then be paired with funding for their project, funding for personal development, and an intergenerational cohort of St. Andrew members to work on the project together.
---
St. Luke's Episcopal Church
Over the next five years, St Luke's wants to tell our neighbors a different story of what it means to be a Christian. To do this, we have created a brand new initiative called Peacecraft, which is designed to provide pathways from the church into our neighborhood by exploring the holistic transformation which emerges from spiritual practice. We have identified these as vocational calling, environmental stewardship, nonviolent conflict resolution and spiritual wellness. In conjunction with this, we will re-imagine the green space in front of our church building in order to connect, share hospitality, meet and tell stories with those around us who have a stake in the well being of our neighborhood.
---
St. Timothy Lutheran Church
In five years, the story St. Timothy wishes to tell centers around curiosity. We want to learn with young adults and the multiple worlds in which they work, learn, and live. Allowing young adults to lead and gather us through partnership, we want listen and be cognizant of the stories, ideally in the teller's own voices, they tell around personal, social and spiritual transformation in daily life. Ultimately, rather than focusing on ways in which young adults are not "in church," we wish to illuminate the innovative ways young adults and learners of all ages have leveraged their curiosity to create connection, community and purpose, whether or not that includes our traditional understanding what it means to be religious or faith filled.
---
Trinity Lutheran Church
In listening to our neighbors, Trinity's Innovation Team has heard a strong concern for East African young men who are most vulnerable to the effects of drug use and violence in Cedar-Riverside. Consistent with Trinity's identity of living our faith beyond our walls and providing safe space for our neighbors, we seek to partner with Daryeel ("care" in Somali), a grassroots initiative led by Abdirahman Mukhtar, who personally knows the youth of our neighborhood. Through Daryeel and on his own dime, Abdi has been building relationships and establishing resources for crisis intervention at the most critical time and place of the week for our neighborhood: Friday nights at the intersection of Cedar and Riverside Avenues. As partners, we hope to show solidarity and lend our resources to Abdi, walking with him and the young adults he is mentoring to foster safe space in our community for young people who need it most.
---
University Lutheran Church of Hope
Being a church who is neighbors with the University of Minnesota, means being neighbors with a vibrant but transitional young adult community, experiencing roughly 70% turnover each year. This context is challenging but one we are committed to being in relationship with in life giving ways. In the first year, we will engage in a Neighborhood Deep Listening Campaign, utilizing a number of strategies including door-to-door canvassing, "Listening Posts" at a local business, and creatively leveraging our ongoing ministry of the Dinkytown Farmer's Market. In the second year, we will explore the ways to expand access to our building as a "third space" or gathering space in the neighborhood, as well as some dollars set aside for whatever else emerges from the first year of neighborhood listening.
---