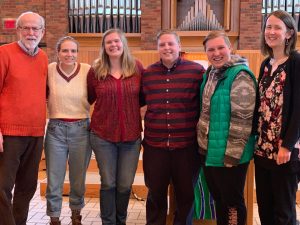 AYTI Ambassador Ian Heseltine interviewed Marty Wyatt, AYTI Program Assistant, to learn more about the impact of Marty's participation in Augsburg's Youth Theology Institute. In 2007, Marty was a youth participant, and he was a mentor in 2008 and 2009. In addition to his role at Augsburg, Marty is pursuing a masters of divinity at Luther Seminary.
Here is Marty's response: 
Honestly, the week [of Youth Theology Institute] made me want to come to Augsburg for my undergrad. Looking back this is the biggest impact because of how going to Augsburg impacted my life. I would have never met the people I did or experienced the city if I didn't go to Augsburg, and that started with the Theology Institute. The Institute introduced me to Augsburg's campus, professors, students, and staff. They seemed to genuinely care about people and the community. It made me want to get to know them better and be a part of this community that cared so deeply for each other.
I think during the week my faith was renewed. High school can be a hard and isolating time for some and the Institute reignited my faith in a powerful way. I learned (or re-learned?) to look for God in everything, from the mundane to the exceptional. The Institute opened a way of thinking about faith differently than I had before. I began to think critically about what I believe and why, which over time led to a deepening of my faith that I wouldn't have if I didn't critically examine it first.  Continue reading "Interview with AYTI Program Assistant Marty Wyatt, former participant and mentor" →