Written by Adrienne Kuchler Eldridge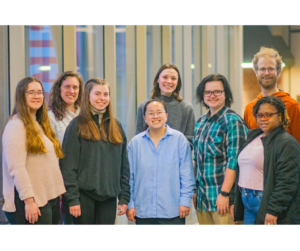 One of the ways the Christensen Center for Vocation is engaging in vocational discernment with students is through the hiring and training of college mentors as facilitators for the annual Augsburg Youth Theology Institute. Mentors spend the spring semester discerning their own God given gifts, practicing small group facilitation, digging into theological texts with curiosity for how they might give us some insight into the questions we have about how to show up as neighbors in our own neighborhoods, churches, schools, and communities. 
This year's mentors are engaged, curious, and determined to create a community of belonging for our participants. And that means focusing on their own development. They are practicing leading prayer, asking questions, developing their strengths, understanding their spiritual gifts, and digging into texts. Stay tuned for our upcoming social media introductions and highlights from the end of the month training retreat – follow up on Facebook or Instagram to learn more! 
APPLY TODAY!
Do you know high school students who would benefit from an experience like this? 
The CONFLUENCE is an experience that empowers young people to be curious about how their personal story, the world's story, and God's story flow together to create a loving and just world. In June of each year, we invite high school students to spend a week living on campus with our college mentors, building relationships and getting to know one another, exploring theology and discerning vocation through experiential learning opportunities. Our hope is for them to gain deeper insight into who they are and the life they want to live as children of God. This learning happens through many forms: academic inquiry in the classroom, community engaged learning, a variety of worship styles and spiritual practices. 
College mentors play an important role as facilitator and guide for the high school participants throughout the week as everyone leans into opportunities for vocational discernment. 
Applications are open until May 15th – will you JOIN US THIS SUMMER!