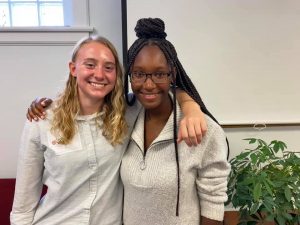 For years, I had wanted to nominate youth to attend the Augsburg Youth Theology Institute, but had not yet been able to have one attend. Then, finally, my own daughter was midway through high school and we were in the midst of Covid. She applied for several opportunities in the summer of 2020 when she was looking toward her junior year of high school, and AYTI was the only program that found a way to offer their summer program online. She was not certain that she was prepared for a week of theological engagement or a week that resulted in writing a paper, but she was willing to give it a try. We promised to support her.
Dinkenesh Coltvet wrote about tools for engaging racial justice as youth—the intersection of nonviolent communication and youth leading in Black Lives Matter. Her article was published in the AYTI journal was shared with friends and acquaintances far and wide. One of the most touching stories we heard afterward was told by Pastor Hans Jorgensen at the funeral of our neighbor and friend, Rose Pinomaki. Our friend, Rose, died unexpectedly last winter and on the night before her death, she was part of a Zoom book group conversation on My Grandmother's Hands by Resmaa Menakem at St. Timothy's Lutheran Church. Pastor Hans asked the group, "What is giving you hope these days?" Rose said that she had read the AYTI youth articles—one youth from their own congregation and one by our youth—and knowing these youth were rising in faith and leadership gave her hope.
It was easier to promote the AYTI weeklong experience in summer 2021 because I was able to tell youth that Dinkenesh had done it. I promoted it with two of our youth, and I was so glad that Zoe Rahberg said "yes" to the possibility.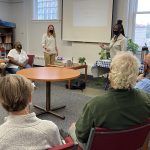 Again, the program was offered online and after a year of online school, it felt like a lot to ask for another week of online learning, but AYTI asked participants to join "with an open mind and a hopeful heart." I knew that Ross Murray, the institute instructor and author of Made, Known, Loved: Developing LGBTQ-Inclusive Youth Ministry, would be an incredible resource for our youth (and all ages) in our congregation where some people are open about their diverse identities and some are not yet. Zoe wrote that although her own coming out journey was to our vicar (intern) and her family who reassured her that God loved her and her family loved her, "Going to AYTI was a way to assure myself that it was okay to integrate religion and the LGBTQIA+ community." Zoe's article will be published in the 2021 AYTI journal.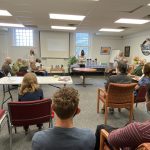 In the AYTI program, the youth noticed places that LGBTQIA+ community are openly welcomed in congregations and places where that welcome could be more noticeable and overt. AYTI invited youth to imagine where they could be more vocal advocates themselves. Both Zoe and Dinkenesh shared their projects together on the last Sunday in September (there is strength in numbers). They provided a survey where participants responded to the question of where they are willing to give strong support to 1) creating a faithful and supportive small group for LGBTQ+ people and 2) engaging in support and advocacy opportunities for BIPOC community. In this way, our mutual love becomes more obvious and our congregation, who has long been supportive of youth and young adults leading the way, gains hope that still… youth are rising in faith and leadership today.
Blessings, Pastor Joy
~~~
Pastor Joy MacDonald Coltvet serves as lead pastor at Christ Lutheran Church on Capitol Hill in Saint Paul, Minnesota, "a diverse, welcoming and inclusive community centered in Christ. Christ Lutheran is part of the Evangelical Lutheran Church in America (ELCA), a Christian denomination of about 4 million members throughout the United States and in communion with many other church bodies throughout the world. When she's not at church, she is probably at high school, middle school or preschool events with her children, seeking a moment's peace with her life partner, Ben, or enjoying music and the arts."