Each year for the Augsburg Youth Theology Institute, daily themes are chosen that are grounded in a biblical text. During the months of training and preparation for the Institute, the college mentors engage in theological reflection as a team and dig deeper into the biblical texts together. Through their leadership development with staff and the Institute chaplain, they read, plan, write, and eventually lead daily devotions for participants using these verses. The following themes and verses are now this year's devotions. 
Monday

Tuesday

Wednesday

Thursday

Friday

Separation

Genesis 3:1-13

Covenant

Genesis 9:8-17

Reunion 

Luke 15:1-10

Breaking Bread 

John 6:1-15

Companionship 

Luke 24:13-35
2022 ACKNOWLEDGEMENTS
Thank you to Pastor John Schwehn and Pastoral Intern Tori Remer for their guidance and support as mentors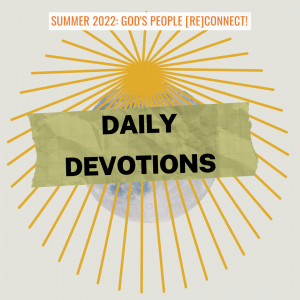 prepared to write these devotions. The hours of conversation, prayer, theological reflection, and support that were given throughout the process is gratefully appreciated. We are proud of our college mentors and their work this spring.
PERMISSION
AYTI offers these themes and devotions for use by our partners. All credit should be given to the Augsburg Youth Theology Institute when using this material. Thank you. 
MISSION OF AYTI
The Augsburg Youth Theology Institute (AYTI) inspires emerging high school theologians to observe, interpret, and engage their world through Christ for the sake of their neighbor. Our participants learn how to reflect theologically on culture and find meaningful ways to respond to the call from God that happens in this process of reflection. 
To achieve this, we provide an intense, one-week residential experience with a new theme every year. Students read theological texts and experience a college classroom, participate in worship, explore diverse community-based learning, and have intentional small group conversations led by college mentors. Following their week on campus, students write a theological paper on the theme and their paper is published in a journal to be shared with congregations and the wider community.  www.augsburg.edu/ayti
Continue reading "Daily Devotions: God's People [re]connect!" →