2022 AUGSBURG YOUTH THEOLOGY INSTITUTE

Sunday, June 26th – Friday, July 1st, 2022
God's People [re]connect!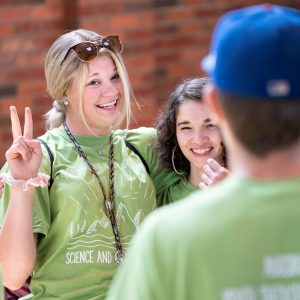 We believe God invites people to live together in unity, a beloved community. As we emerge from two years of change and uncertainty, we invite participants to ask big questions about connection and disconnection.
What surprised you about how you could connect online?
What did you learn about yourself?
What did disconnection teach you?
What do you need in order to feel connected?
What about your virtual connections might you feel grateful for?
What gratitude do you have for the gifts of being able to connect in person?
Where did you see / feel / hear God?
At AYTI, we will ground ourselves in biblical stories of connection and disconnection, stories of theologians throughout time that can teach us about connection, and we build relationships and create stories together in real time. Participants will develop a theological understanding of connection and disconnection and seek ways to share these gifts with the world. Come to AYTI to [re]connect to your energy and power source – God who loves and connects all people.
"How very good and pleasant it is when kindred live together in unity!" ~ Psalm 133:1
---
2022 Co-INSTRUCTORS
Participants at the institute have a chance to experience a college classroom and with gratitude we share that two Augsburg University professors will be the co-instructors for the summer 2022 institute.
Matt Maruggi
Matt Maruggi is an Associate Professor in the Department of Religion and Philosophy at Augsburg University in Minneapolis, MN. He teaches and researches in the areas of vocation, spirituality, liberation theology, the ethics of world religions, and interfaith studies and action. Matt is an experiential educator; he promotes student learning outside the classroom through visits to various houses of worship in the Twin Cities, civic engagement in the Cedar Riverside neighborhood of Minneapolis, and study abroad courses in Central America. Matt co-directs the Interfaith Scholar Seminar, a curricular and co-curricular program that promotes interfaith dialogue and community engagement with students from a variety of religious traditions and core commitments.

Chris Stedman
Chris Stedman is a writer, activist, and professor who currently teaches in the Department of Religion and Philosophy at Augsburg University in Minneapolis, MN. He is the creator, writer, and host of Unread, named one of the best podcasts of 2021 by the Guardian, Vulture, HuffPost, Mashable, and the CBC. Additionally, Chris is the author of IRL (2020) and Faitheist (2012) and has written popular essays for outlets including the Atlantic, Pitchfork, BuzzFeed, VICE, and the Washington Post. Previously the founding director of the Yale Humanist Community, he also served as a humanist chaplain at Harvard University and a trainer and content developer for Interfaith Youth Core.
---
APPLY NOW!
TWO PART PROCESS
1) application (youth)
2) nomination (adult mentor)
ACCEPTANCE
Applications (youth) and nominations (adult mentors) are reviewed in early May.
Participants are notified of acceptance by mid-May and Registration Forms and Payment are due by June 1st, 2022.
COST
$350/participant – covers the cost of all on campus programming.
Participants are responsible for transportation to and from Augsburg University.
NOMINATOR ROLE
Nominators celebrate the completion of AYTI and are invited to the closing brunch and celebration for participants at the end of the week of the Institute. Registration required.
Nominators support participants in completing their project or essay for submission at the end of August.
Nominators celebrate the publication of the participant essay and share with the congregational community.
YOUTH APPLICATION STEPS
Talk to your nominator and be sure their Nomination Form is completed by May 1st, 2022.
Complete the Application Form by May 1st, 2022

The application is a series of essay questions to help the review team know why you are interested in attending the Youth Theology Institute. Please prepare your answers.
Essay questions:

Why do you want to attend the Augsburg Youth Theology Institute (AYTI) and what hopes do you have for the experience?
What intrigues you about this year's theme?
What specific personal gifts/skills/talents do you want to contribute to the AYTI community, and how will you do that?
Describe how your faith and/or faith community shape your daily life. Feel free to include any questions or challenges.
At AYTI, we provide a safe space for students to wonder and question how God is working in the world.  We invite you to show up to AYTI with your questions. We expect participants to complete pre-work (reading and activities sent to you before camp), come to the week with a fully engaged presence, and complete post-work showing your learning (specifically writing a paper for publication and completing a project). What about these expectations excites you or concerns you?
Youth Apply Now
ADULT NOMINATION STEPS
Identify young people in your congregation with a gift for theological exploration.
Invite them to consider the Youth Theology Institute.
Pray for and with them in their discernment.
Talk to student and be sure their application form is completed
Complete Nomination Form by May 1st, 2022

Questions for Nominator

What are the reasons you are nominating this youth for the Augsburg Youth Theology Institute?
How does this youth demonstrate leadership and/or the importance of faith and Christian community in their daily life?
What are 3-5 gifts/ skills/ talents this student will bring to the AYTI community?
In what ways do you hope this youth benefits from AYTI?
In what ways could your faith community or congregation benefit from this youth's participation in AYTI? How will you, both as a nominator and a faith community, support this youth if they are accepted to AYTI?
Nominate Youth Now