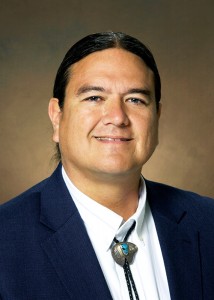 Tuesday, February 16, 2016
11 a.m., Hoversten Chapel, Foss Center
"Traditional Lakota Approaches to Health Disparities: Connecting People and the Environment"
Donald Warne, MD, MPH, is professor and chair of the Department of Public Health in the College of Health Professions at North Dakota State University, and is the senior policy advisor to the Great Plains Tribal Chairmen's Health Board. Warne is a member of the Oglala Lakota tribe from Pine Ridge, SD, and comes from a long line of traditional healers and medicine men. He received his doctor of medicine from Stanford University School of Medicine and his MPH from Harvard School of Public Health.
—-RELATED FILM EVENT—-
"Unnatural Causes: Is Inequality Making us Sick?" EPISODE: Bad Sugar
film website
About: Half of the adult Pima Indians of southern Arizona suffer from Type II diabetes, one of the highest rates in the world. The increase began when the Pima lost their water rights and became dependent on the government commodity food program. Solutions are now being sought in a return to traditional foods and increased community control over food production.
Monday, February 15
5 p.m.  — Appetizers and beverages, Sverdrup Lobby
6 p.m.  — Film viewing and discussion with physician Donald Warne, MD, MPH, who is featured in the film
Film viewing in Science Hall, Room 123, Augsburg College
The film event is sponsored by Augsburg College, Batalden Seminar in Applied Ethics, American Indian Studies Department at Augsburg College, Institute for Global Studies at the University of Minnesota, and Native American Film Series. Hosted by the Augsburg Native American Film Series.
This event is sponsored by Paul '63 and LaVonne (Olson) Batalden '63.